Let's just clear the air before we get started. Fantastic Beasts and Where to Find Them is probably like…the ninth best Harry Potter film. That's not to say it isn't good; it's actually a lot of fun and maintains the spirit of the original series, but it feels uneven at times and unmotivated at others.
Fantastic Beasts and Where to Find Them is a prequel to the Harry Potter movies, taking place years before the Boy Who Lived — 1926 to be precise. This time, we jump across the pond to the good ol' United States of America, where a wizard named Newt Scamander has just arrived on the final leg of a global excursion to find and document an extraordinary array of magical creatures. Now, magical creatures are banned in the USA, so when "something" begins terrorizing the city, the American Aurors (magical detectives) blame Newt, who has unfortunately lost his case of gigantic creatures. Whoops.
One thing missing that becomes noticeable right away is the innocence of youth and discovery. With the Potter movies, most of the characters were kids. You were experiencing this world through the eyes of a child. The kids were always out to prove the adults wrong or investigate something the teachers refused to. In Fantastic Beasts, they're all adults. So, when someone screws up, it's just a bunch of adults kinda goin' "don't look at me…".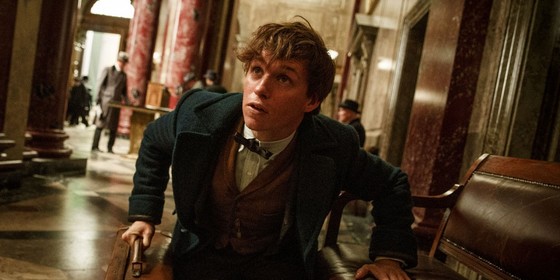 That being said, the cast is one of the highlights of the movie. I'm not normally a big fan of Eddie Redmayne but he fits in nicely with this universe. His character is a bit of a nervous-pervous, always fiddling like he has better things to do and places to be. But, it's perfect. He even describes himself by admitting that most people don't like him because he's "Annoying." He's a bit of a tough pill to swallow at first, but he becomes more likable as the film progress, even if his childlike antics when relating to his magical beasts feels out of character, even for him. Katherine Waterston plays the American wizard trying to get back in the good graces of her superiors at the MACUSA (that would be the Magical Congress of the USA), but she's not nearly plunky as she should be — but her character works well with Newt.
In fact, this movie gives us something that was really missing from Potter, and that is a non-magical person — they were muggles in Potter, they're called no-majs (sounds less clever because it's an American thing.) Jacob Kowolski (played by Dan Fogler) is pulled into the action when his case is swapped with Scamander's. They end up on the run, trying to prove their innocence and track what ever nasty magic is really causing trouble around the city. The odd pairing of Fogler and Redmayne, which seems just as odd off camera as it does on, creates some fun chemistry. It's nice to have a character that is just blown away by these wizards and the truth that they've existed under the noses of the non-majs for years.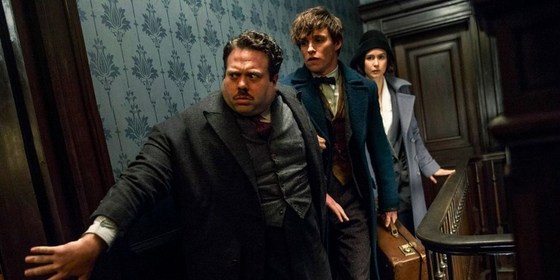 Let's talk about those bad guys, because this is where trouble comes into Denmark. There's little mystery about what's going on and who's behind it. In fact the whole set up for the antagonists and the threat feels wonky and out of sorts from the get-go. The threat on the city never really feels like much of a threat. It's actually shocking that none of these wizards can figure out what's going on and who is behind it, considering it's pretty obvious from the start. Much of it centers around an abusive woman who has taken in magical children and tried to reform them from their unnatural ways through various forms of self abuse.
It's a bit of a darker subplot than we've seen in these movies before, but it never feels fluent and when the reveals begin to come, they feel forced and unearned. Colin Farrell and Ezra Miller (DC's new movie Flash) figure in here. Farrell never seems quite comfortable and Ezra's role is so underplayed he's boring to the point of being uninteresting.
Considering this movie is based on a book that was more of a companion piece to go along with J.K. Rowling's original novels, the filmmakers (Rowling gets screenplay credit and veteran Potter director David Yates returns) do an excellent job of creating some fun characters while not having to rely on references to everything you already know. There's a couple of minor nods to characters and families, but Fantastic Beasts really is it's own thing — and it works, for the most part. The beasts are fun — some are like ferrets, others dinosaur-like — so, between these cool creatures and all the wizarding magic, the special effects are pretty great.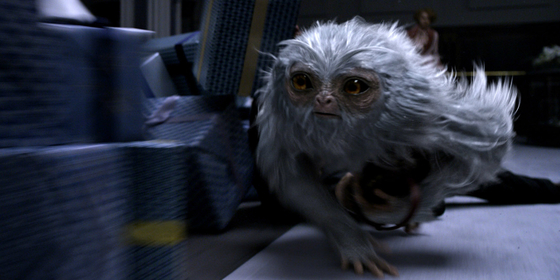 The film itself looks incredible as Yates and company have meticulously re-creating post depression New York and weaving in the style and charm from this now-shared universe. Originally crafted as a standalone, Rowling has since said there will be five of these movies. There's the obligatory setup for the villain going forward, a moment that had to have been my least favorite. I actually laughed out loud — and it wasn't meant to be funny. I won't ruin it. I'll let the scene do that for you. It just seems so random and out of nowhere — but open minds right?
But, that's just it — there is a lot to feel good about here. The new characters could be fun going forward and there's obviously a lot of room to grow if the filmmakers allow themselves to make this a "world" adventure and not just settle on New York or England. For Potter fans, Fantastic Beasts and Where to Find Them will provide just the right amount of wizarding nostalgia they've been missing since Harry vanquished snake face — even though it never manages to capture that lightning in a bottle magic. Despite it's flaws (most of them are easy to overlook), the movie is a fun enough escape.