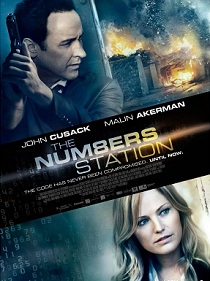 Numbers stations are a really interesting phenomenon. These enigmatic shortwave radio broadcasts that consist mainly of a musical tone followed by a series of seemingly random numbers have been considered to be part of spycraft for decades, although it's not officially recognized as such by most governments. I've only been recently introduced to the subject, but it's pretty cool, and I imagine it'd be pretty easy to get obsessive over.
I'm saying this because the new movie about this weird little intelligence-gathering tool, The Numbers Station, out this weekend, is absolutely unwatchable.
I don't want to deter people's potential interest in the subject in case they actually watch the film and think it seems like a weakly-conceived waste written by a nutball conspiracy theorist that spends most of his free time listening to Alex Jones broadcasts. That is, by the way, exactly what this movie is—although I can't vouch for the listening habits of writer F. Scott Frazier or unfortunately-named director Kaspar Barfoed.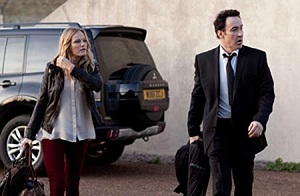 In the movie, John Cusack plays Emerson Kent, an emotionally broken-down CIA black ops agent who's been assigned a shift babysitting numbers-station broadcaster Katherine (Malin Akerman), who is somehow a sought-after cryptography expert, despite having dropped out of college. When a group of armed baddies ambush them, Emerson and Katherine have to work to save the compromised station, and stop an outgoing message that could cause the death of several important intelligence officers, including Emerson's boss, Liam Cunningham (Davos Seaworth from Game of Thrones), who's disappointingly underused.
This is Frazier's first screenplay, and it shows in the worst possible way. Despite a surprisingly good cast, every line lands with a leaden thud. Instead of using the story to explain exposition to the audience (showing rather than telling, or at least telling in a way that fit a cohesive narrative), characters simply state incredibly obvious facts to each other, facts the person they're speaking to would definitely know. The lines that don't illicit groans bring on unintentional laughter. But oddly enough, this patronizing plot explanation doesn't extend to the movie's confusing climax, probably because no amount of explanation could make it make sense.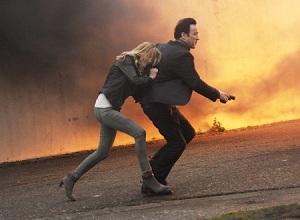 Barfoed tries to make the best use of the station as a setpiece, since it's very dark and atmospheric. But one can only shoot so many flickering light bulbs before an audience gets bored. The movie's cold look and feel isn't helped any by the utter lack of chemistry between Cusack and Akerman. I like both actors, but I've seen slugs that were more exciting. And I say that with complete honesty.
On the positive side, The Numbers Station works well as potential "so bad it's good" fodder. I'd love to see what the Mystery Science Theater 3000 crew would make of the movie. You could probably make a pretty good drinking game out of it, too.
But ultimately this movie is better forgotten. If you're really interested in finding out more about numbers stations, you can find several interesting articles on the subject that will take up much less time than this movie, which feels like a slog even at 89 minutes.