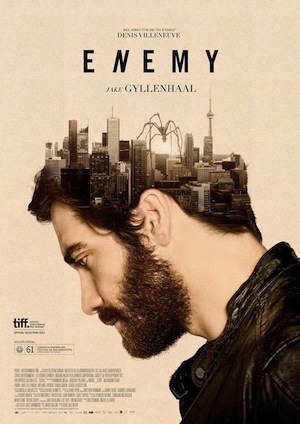 A stellar performance from Jake Gyllenhaal, and the incredible visual styling of director Denis Villeneuve almost save the cryptic and confusing script that undermines Enemy.
Consider this a General Spoiler Warning. I will do my best to avoid spoilers, but if you have heard rumblings about Enemy and are excited about the film, go see it before you read anything else. The nature of the story makes it difficult to discuss without hinting at something, and if you are a perceptive movie watcher, it may ruin the film.
Adam Bell (Jake Gyllenhaal), is an emotionally distant and reclusive professor of History. He seems to have a loveless relationship with his girlfriend, Mary (Mélanie Laurent).
When Adam watches a film recommended by a colleague, he discovers his doppelgänger, actor Anthony St. Claire (also played by Gyllenhaal). Adam searches for Anthony and tracks the actor to his apartment. Anthony is a real person with a wife, Helen (Sarah Gadon), who is six months pregnant.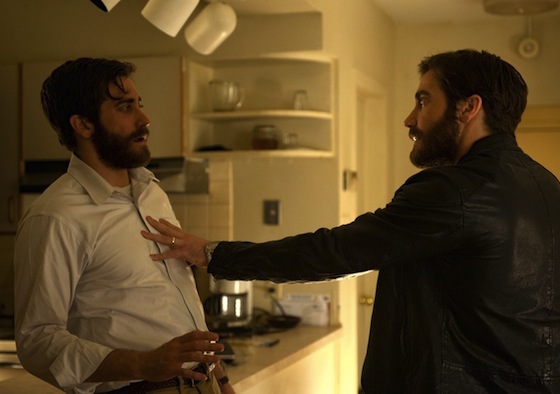 Anthony and Adam decide to meet at a motel outside of town. There they discover that not only do they look alike, but by all physical accounts they are identical. Disquieted by this, Adam leaves and decides never to contact Anthony again. Anthony has other plans though.
Gyllenhaal does an amazing job bringing to life the nuance and subtleties that define Adam and Anthony. Everything from his posture to his vocal inflection enforces the individual character of each man. He could in fact be too convincing.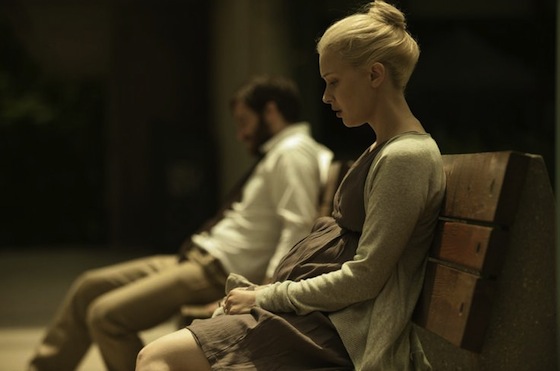 If you are looking for a moment of clarity à la Fight Club or Moon, you will be sorely disappointed. There is no science fiction reality in Enemy a point made all the more confusing by the use of a spider visual motif.
Enemy travels in the realm of visual metaphor, but, as with all poetry, there must be a point of entry or an embedded cypher that can help the viewer crack the code. The metaphors remain a mystery throughout the film. There were more than a few furrowed brows, heavy with confusion, as the credits rolled.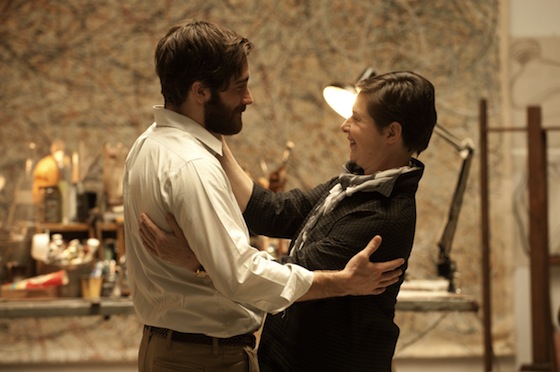 It is all the more frustrating, because there are some truly head-turning visuals in Enemy. The aerial shots of the buildings in Toronto will induce vertigo in even the most stalwart of viewers. The sound design creates an ominous oppression and sense of dread during seemingly benign moments. Finally there are some spider images that will live in my erotic nightmares for years to come.
I wish I could say that Enemy was great, but its inability to provide the viewer a moment of understanding is its downfall. Instead of walking out saying "Ah ha!" I left, scratching my head and thinking "Hunh?"