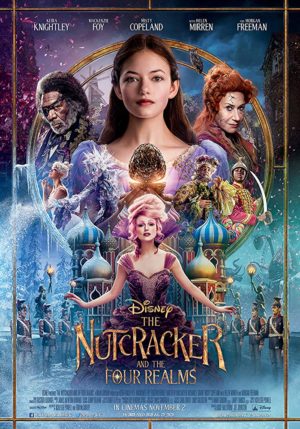 [Rating: Minor Rock Fist Down] 

The holiday season unofficially begins the day after Halloween. Some may start sooner than that, but that's their problem and they can sort it out themselves. November too, is always a weird time to watch Christmas-inspired movies, yet here we are talking about the newest holiday fanfare, The Nutcracker and the Four Realms.
A new take on the classic story and classic ballet, the movie, directed by Lasse Hallström (The Cider House Rules) and Joe Johnston (Captain America: The First Avenger) tells the story of young Clara Stahlbaum (Mackenzie Foy of Interstellar), who finds herself in a magical land that celebrates her return as a good sign of returning peace to the titular four realms from a rogue realm. This anticlimactic movie is another in the long line of live-action adaptations Disney is trying making, and in the end works more towards a way to fulfill that obligation and kill time than an actual "fun for the whole family" flick.
Clara's mother has passed away, and in her final Christmas gift she leaves Clara an egg-shaped box that is locked. On Christmas Eve, Clara's godfather and friend Drosselmeyer (Morgan Freeman) gives Clara the key she desires as her gift, but first must retrieve it from what Clara soon discovers is a world unlike her own. After the key is taken away from a cunning mouse, Clara meets Captain Philip (Jayden Fowora-Knight) who warns Clara not to follow the mouse into the fourth realm, run by the sinister Mother Ginger (Helen Mirren) who has waged war against the other realms in this world. Clara and the Captain soon after journey to a capitol-like city where they meet Sugar Plum Fairy (Keira Knightley), Flower Realm King (Eugenio Derbez) and Snow Realm King (Richard E. Grant). As it turns out, Clara's mother was once a Queen in this land making Clara princess, and each Realm ruler supports Clara to help them win back the fourth realm and displace Mother Ginger forever. All of this is scored with the music of Tchaikovsky and features a special performance by Misty Copeland as a ballerina.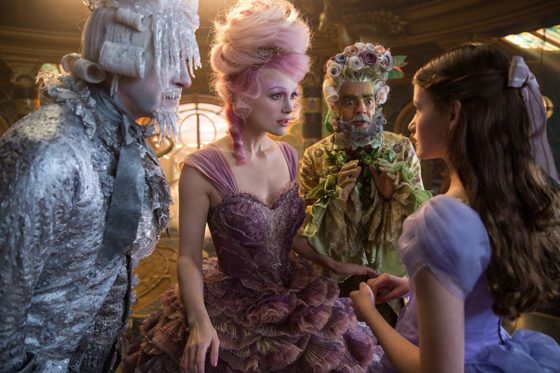 Amazingly, what is described above is the central plot of the entire movie without all the plot twists and normal mumbo-jumbo that Disney throws in to try and make this movie edgy. Earlier this year, Disney produced A Wrinkle in Time, that was ugly to look at but had a good concept and theme somewhere in there. In this movie, it's the opposite. The sets are magical and the real highlight of everything is the use of CGI which works each time it is used (and it's used A LOT) and the costumes, hair and makeup.
This movie probably has some of the best use of costuming I have seen this year and of set design. Each place that Clara encounters, including her own world made me feel the warmth of the season and just how vast her adventures take her. Unfortunately through all of this, there was no central theme. Was it: Stay with your family during the holidays? Music is important (this was touched on but quickly abandoned)? Don't trust people so fast? It's probably simply the magic of believing in the impossible, but it's never fully formed. Even the action of the movie where the Tin Soldier Army starts their war on Mother Ginger is anti-climatic and ends before anything even begins.
On the positive side of things, Foy, Fowora-Knight and Mirren all are just splendid in this and work well together and work well over that of Knightly whose performance as Sugar Plum Fairy is is more sickly sweet than anything. Maybe it's the weird high-pitched accent she's going for, but it doesn't work. It's bothersome. Is it weird to say even a CGI rodent did a better job than an award winning actress?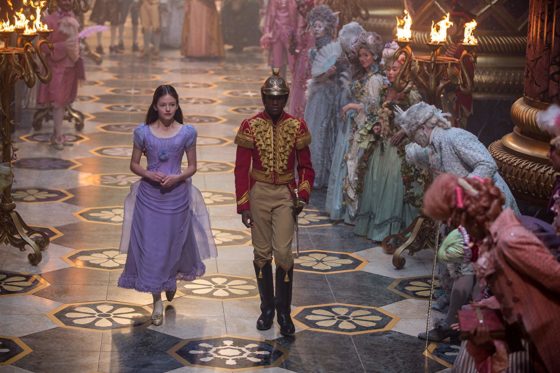 In the long run, there are many doubts if this type of offering will be a new tradition for the holidays because this doesn't really throw that holiday feeling out there. There's times where the spirit of the season with family and friends is presented, but The Nutcracker and the Four Realms doesn't really strike anything new or ties up the stakes it presents to its audience. I've never seen the ballet, though I have always wanted to and now with this presentation, I feel that seeing that is a better way to spend time with those you love than seeing this and being presented with an overall hollow shell of a nut.