A lot of movies have mined the drama leading up to a divorce or separation, yet few have had the stones to commit to the nasty aftershocks of a relationship already in tatters. Opening in limited release this week, the Belgian drama After Love (French: L'Economie du couple) does just that, and revisits a set of themes that director Joachim Lafosse explored with shattering depth and nuance in his 2006 feature, Private Property. Both films examine the collateral damage of a disintegrated relationship, and do justice to a human truth that isn't especially sexy, redeeming, or pleasant.
After Love opens with wife Marie (Bérénice Bejo) and husband Boris (Cédric Kahn) already split up, yet still living together as they work out the details of their divorce. Although the organized Marie has constructed a precise set of guidelines regarding when and how she and Boris will interact with their twin daughters and each other, things aren't working out as planned. Boris sometimes gets off work early and is home when he's not supposed to be, or must resort to eating food that isn't on his designated refrigerator shelf, and it's driving Marie bonkers. Although it is never said outright, one gets the sense watching Marie's exasperated frostiness that these aren't problems exclusive to this stage of the relationship, and what's on display is a culmination of dozens of issues that have snowballed into a gigantic one.
As a result, Marie has put a virtual wall up between herself and Boris, and while it seems a little aggressive at first, one is forced to recall the sad reality of such a structure, which is meant entirely for defensive purposes. Boris has hurt her in the past for reasons that are only alluded to in their clipped, biting interactions, and Marie has had enough. Everything about Marie and Boris' attitude, bearing, and demeanor all speak to a polarizing set of personalities that have long since stripped their respective gears due to friction. Although Boris is full of love, compassion, and humor, he lives exclusively in the moment, and can't handle complicated, no-fun tasks like paying the bills, cleaning up, or enforcing discipline on their daughters.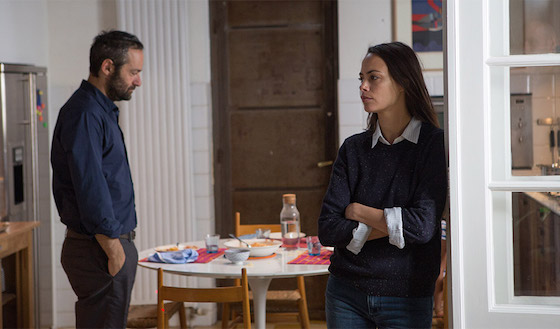 It's clear that Marie can't handle the disappointment of failed expectations any longer, and rather than continue to deal with her husband's problems, she's decided to block them off: like ants kept at bay by a moat. The kids, played by real-life sisters Jade and Margaux Soentjens, are too young to understand the complexities of their parents' drama, but at 8 or 9 years old, they're keen enough to exploit it for their own gains. They sense that Marie is too exhausted to keep up with every little thing, like dirty clothes on the floor or homework falling by the wayside, and whether they're doing it to get attention, or just because they want to see what they can get away with, they're working the situation. And while Boris means well, he too senses an opening with his daughters' redirected affections, and can't help but to lap up their attention as a means to reconnect with a sense of familial normalcy.
It all feels a little too real, which is a testament to the screenplay, direction, and understated performances of Bejo and Kahn. Although the actors get their dialed-up moments of screaming and arguing, Lafosse keeps the film's focus on the smaller, silent moments that say more than any monologue or exchange could. Quick snipes about texting too loud, eating the last piece of cheese, or coming home early speak volumes with glares and posturing that perfectly capture the entire scope of a shattered relationship beyond repair. Flashes of humanity and affection only deepen the nuances at play, for it's clear that these two people did indeed love each other once, and somewhere beneath all the frustrations and grudges, this flame still flickers.
Set almost entirely inside the condo and adjoining courtyard Marie and Boris still share, After Love feels appropriately constricting and claustrophobic. Lafosse eschews close-ups to present fully framed shots of the couple living together in this confined space: a directorial move that puts the audience in the room, and uncomfortably so at times. Watching the film, there's nowhere to escape, and like Boris and Marie, those watching have no choice but to confront the awkward realities of the situation as presented. The deliberate use of lighting to evoke a sense of exposure versus concealment is also a very effective technique, and is used with a deft touch throughout the picture.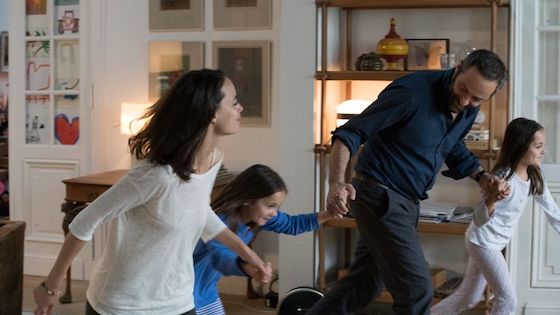 Relationships are difficult, and by constructing his movie around the final stages of one that's jumped the rails, Lafosse has accomplished something admirable. Like a film that concerns itself with the final stages of a terminal illness, or the poorest members of society, After Love shines a light on an unpleasant yet all-too-real truth most hope to never confront. There aren't any easy answers in this film, nor should there be: love, parenting, and adulthood can be difficult under the best of circumstances, let alone the worst. In front of the camera, Bejo and Kahn do exquisite work to show rather than tell why this is the case, and their efforts are matched by a patient, discerning eye behind it.
In French with English subtitles, and clocking in at just over 95 minutes long, After Love transcends culture and language to tell a story that is as universal as the very concept of love itself. Come for the drama, stay for the humanity: it's worth it.