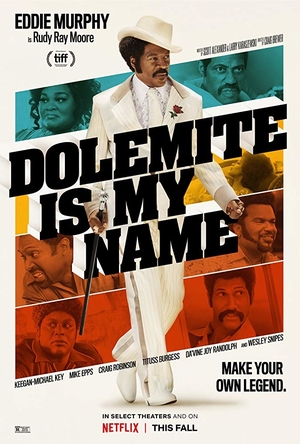 [Rating: Solid Rock Fist Up]
There are not many films that can balance the mixture of vulgarity and charm quite as well as Dolemite Is My Name does. The Rudy Ray Moore biopic hits all the narrative stops of a biopic but is anything but traditional. The film pays great tribute to Moore and the importance of the blaxploitation films of the 70s. Just like the films that writer and director Craig Brewer is idolizing, Dolemite Is My Name never shies away from the absurd and praises cinema's impact in bringing communities together. Wrapping these themes in a nice little bow is Eddie Murphy's return to the screen with an Oscar caliber performance of Moore.

The film follows the story of Rudy Ray Moore's invention of his iconic character Dolemite and the lengths he would go to pave and protect his legacy. Desperate to not end up like his abusive father who worked as a sharecropper, Moore risked his life to build a legacy of laughter. Moore's most personal crowning achievement was the 1975 film Dolemite, which Brewer now shows the creation of today.

Along with its recreation of one of Hollywood's most iconic "so bad it's good" films, Dolemite Is My Name focuses heavily on themes of legacy and stardom. Moore's case is specific to many others in his determination to not end up like his father. As things fall apart in Moore's life, he never takes no for an answer. Though naive, Moore's confidence is one that anyone who watches the film will envy greatly. Dolemite Is My Name attempts to inspire audiences as much as it makes them laugh. The wonderful performances from the cast and the sheer essence of who Moore was, makes the film's goal a complete success.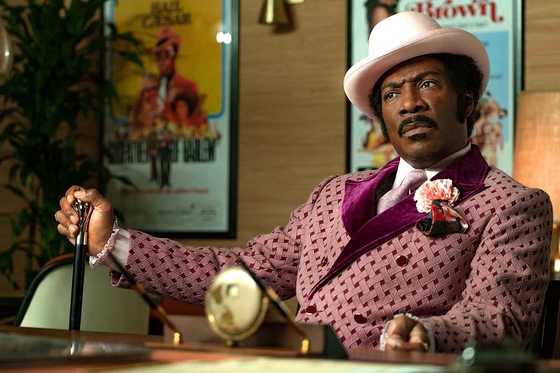 Other than his legacy, the film highlights Rudy Ray Moore's want to make a film for those he deemed his people. Never taking the opinion of a white executive over his own, Moore wanted to make a film that he knew his community would respond fondly to. It might have seemed silly and even stupid to the suburbs (and critics who despised Dolemite) but Moore focused on the pure entertainment that comedy brings about and tearing down every sacred barrier getting there.

The film hits a few bumps in the road when it comes to it's pacing. At the beginning of the film, too much time is featured on the development of Dolemite and Moore's initial accomplishments as a comedian. Scenes drag and become a bit redundant after a while. Great character development happens at this time but it takes about 15 minutes too long. At times at the beginning of the film, it feels like unnecessary facts about Moore are told, opposed to getting to the real meat of the film when Dolemite is being made.

Similar to the vein of the iconic Spider-Man quote – "With a great character comes a great responsibility," taking on the role of Rudy Ray Moore is no easy task. Moore is inherently crude, possibly a tad bit crazy, but overall immensely charming. Moore's act as Dolemite could have been disastrously off-putting, however, his comedic prowess and personal charisma made the character work. Any actor attempting to double down on this by portraying Moore and Moore as Dolemite could have been in for a rude awakening if not handled withGod given charisma. Eddie Murphy fits this bill perfectly and is why when he stepped up to the plate, he hit out of the park.

Murphy is remarkable as Moore. Keeping the joy of the late actor alive, Murphy puts his all into the role of a man that paved the way for the career road he went down. The traits that made Murphy so successful in the 80s are due to Moore shattering the white social norm a decade before. It is only fitting that Murphy is the one to pay tribute to all these years later. It's even more fitting that Murphy is phenomenal in doing so and exemplifies a return to form.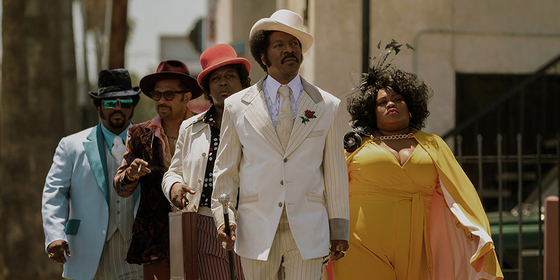 As Moore strives to make his film a plethora of eccentric yet lovable characters are introduced. Craig Robinson, Mike Epps, and Tituss Burgess play Moore's supportive friends and producers. Wesley Snipes shines as an actor-turned-director D'Urville Martin, who has gone hilariously "Hollywood" and sees himself as above it all. Keegan-Michael Key, who is known for his more quick-witted and slapstick comedy, takes a turn to the straight man as Dolemite's writer Jerry Jones (not the owner of the Cowboys), who battles on set to make sure the script's message and morals are never lost to the absurdity that Moore constantly adds in.

With all the comedic greats that are featured in the film, Chris Rock, Snoop Dogg, Luenell also make appearances, it is rising actress Da'Vine Joy Randolph that steals the supporting show. Playing the role of Lady Reed, Randolph is a tour de force in illuminating the life of a comedian whose name deserves to be known. Randolph commits in the best of ways in a powerhouse performance that brings the most emotional depth to the film. Whether she's singing inappropriate songs in a humorous southern accent or delivering heartwarming monologues illustrating how groundbreaking Dolemite was for plus size women of color in leading roles, Randolph always stays true to the wonderful Lady Reed.
There are moments in Dolemite Is My Name that are shocking with expectations of modern comedies. Graphic nudity specifically stands out. The film, however, does a great job giving a voice to those who choose to go nude. Never was it just merely sell a product by the lowest of denominators, instead, it was about the empowerment that sex appeal can create. Moore strived to tear down boundaries by any means necessary while making sure that the voices of allies around him were always heard.
Dolemite Is My Name serves as a time machine to a changing time in Hollywood. The astonishing acts in the film are always grounded in realism, which makes the craziness even more charming. The ambition of the film could have been its own demise. Instead, just like Moore himself, the complete commitment to ambition is what leads to its greatness.