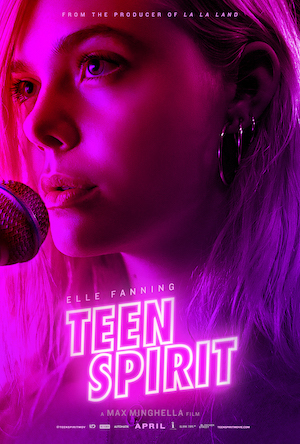 [Rating: Swiss Fist]

The only thing I really took away from Teen Spirit, is that Elle Fanning is a hell of an actress and has an incredible voice. If the script matched her passion, she'd be staring at a possible Academy Award nomination. But as it is, the indie musical drama from writer and director Max Minghella is dull and lifeless when the music stops.
Fanning plays Violet, Polish teen from the Isle of Wight in the UK. She's bored with her life and secretly longs to be a pop star, spending time at an open mic night blowing away the locals. Thankfully she has a hell of a voice and when a popular singing program called Teen Spirit comes to town, she manages to impress, and gets invited to later rounds and quickly becomes a popular contestant.
Unfortunately, her name and background make it an uphill battle and she turns to a former Opera singer, Vlad (Zlatko Buric) to help her polish her act to win over the voters. But this Cinderella soon learns there is a temptation to fame.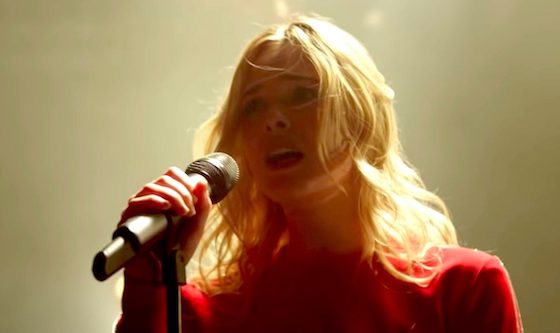 Fanning is amazing when she is singing. Plus, she speaking Polish in this film as well during several scenes, making her performance that much better. But her character is boring. We really don't get to know her or her life all that well other than during her song performances in which we're treated to overly artsy montages that kind fill in the blanks the script refuses to through natural character development.
Minghella, best known for his acting work on The Handmaid's Tale, makes his directorial debut and certainly has a visceral filmmaking eye. The musical numbers pop with an energy, artistry and emotion that is sorely lacking from the rest of the film. But the rest of the film never matches the energy of its young star's soulful passion.
Teen Spirit is worth a watch just for Fanning's performance. The movie itself show flashes of life, but overall the bleak and dreary atmosphere of the gritty English setting seeps a little too deeply into the script.