This movie review appeared in slightly different form originally on Lawrence.com: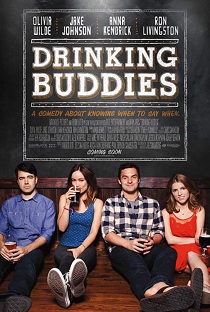 Drinking Buddies, currently playing at the Alamo Drafthouse Mainstreet and on VOD platforms, stars Olivia Wilde, Jake Johnson (from Fox's New Girl), Anna Kendrick, and Ron Livingston — but it's not the broad comedy you might expect from looking at its cast. Instead, it's a subtly realized film about personal relationships and the complications that arise among a group of friends, made to seem like the audience is eavesdropping on what may otherwise seem to be mundane conversations.
Along with the Duplass brothers and Andrew Bujalski, director Joe Swanberg helped define what became known as the "mumblecore" movement in 2005 with his independent film Kissing on the Mouth and 2007's Hannah Takes the Stairs.
Mumblecore films aren't much for production value, and they rely heavily on naturalistic situations and dialogue. While Drinking Buddies definitely has the budget to support its character-driven story, it certainly subscribes to the mumblecore aesthetic in the latter category.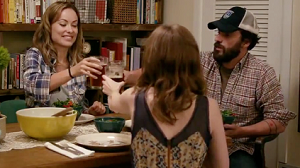 Kate (Wilde) and Luke (Johnson) work at a craft brewery in Chicago and have the kind of easy rapport the co-workers often develop, but their romantic feelings for each other are just below the surface. Both of them are in relationships with other people (Kendrick and Livingston), and the situation has the potential to get messy when an attraction develops on that side as well.
Can heterosexual men and women be friends without getting romantic? How likely are friendships to turn into something more? The answers according to this movie are very different from the standard facile romcoms that are most often produced in Hollywood.

Drinking Buddies has an amiable charm, and all of its characters have inherently likable qualities peppered with the kind of annoying quirks that make them feel real. The characters all have a very lived-in quality, and Swanberg's plot gives us access to some of their own internal decision-making — the stuff that no one else is aware of.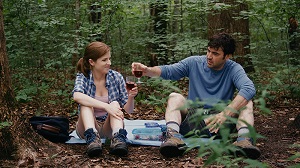 Call them dirty little secrets or little white lies, but everyone in the movie has plenty of moments where they are not being honest with someone because of an ulterior motive. Like any fully realized film, there is a huge amount of subtext going on in virtually every scene.
Although he is credited with writing the film, Swanberg had no formal script. The actors were given a general outline of the plot and the story beats for each scene, but the reason the dialogue feels so real is because it was improvised within these parameters. Luckily for the film, its comedically inclined actors (especially Jason Sudeikis in a small supporting role) are able to spice things up while keeping things grounded as well — but be warned, this is not necessarily a comedy.
Despite the fairly obvious setup, Drinking Buddies has a couple of surprises up its sleeve, albeit in a very minor key. There's no big revelations — no conveniences to let its characters off the hook — just a story that works itself out based on the choices its characters make. With its distinctly realistic tone and honest insight into modern relationships, Drinking Buddies feels very much like a movie in the "now" moment.