A Universal logo from the 80s is the first thing shown onscreen in Sam Raimi's "Drag Me to Hell," and immediately I'm taken back to a time when renting random VHS tapes at the video store led to my discovery of "Evil Dead 2." The writer/director's latest is certainly a return to the nimble horror slapstick that marked his "Evil Dead" trilogy, but it also has the kind of efficient character development and high production value that his "Spider-Man" movies have.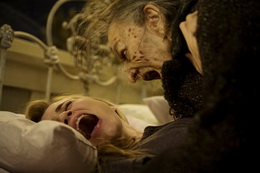 Raimi loves to beat up on his main characters—just take a look at Ash or Peter Parker—and sweet young loan officer Christine Brown (Alison Lohman) doesn't receive any sort of special treatment either. The poor girl is subject to all manner of disgusting-ness forced into her face and mouth and is routinely beat against the walls of her own house by some insidious invisible force.
In fact, Christine has more than one thing in common with Peter Parker—"Drag Me to Hell" is all about an outcast from a broken home learning to gain confidence and become an adult. Christine thinks the way to do that is through a promotion to bank assistant manager, but her boss (David Paymer) is worried she may not be able to "make the tough decisions." She blocks out her helpful instincts and refuses an extension to an old woman who's losing her house, not knowing it will be the first of many tough decisions she will make in the coming three days.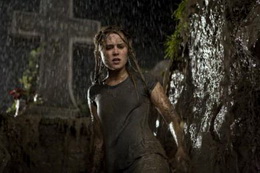 The woman curses Christine and sets a shadowy goat-demon on her trail, the same one who we saw break through a marble floor and swallow up a young boy in the prologue. If reading that last line sounded as ridiculous as it was for me writing it, that's Raimi's intention for sure. "Drag Me to Hell" walks a narrow path between campiness, sincerity, and sudden bursts of shock and "aaaah"!
It must also be mentioned that "Drag Me to Hell" (which was co-written by Sam's brother, Ivan Raimi) is that rare horror movie that has tons of goo and slime, but also managed to receive a PG-13 rating. Besides the obvious commercial considerations, this was a smart movie because it forces Raimi to rely more on his skills as a filmmaker and less on gore. The Lamia is seen almost exclusively in shadow (with ominous extended arms in one scene that recalls Murnau's "Nosferatu") and Raimi makes good use (maybe a little over-use) of jarring sound effects.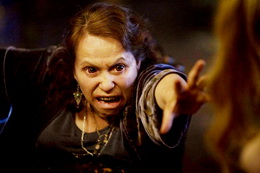 Whether the film's topicality is a coincidence or not (Raimi maintains that the "bank loan" idea is not in reference to our current fiscal crisis), "Drag Me to Hell" has a surprising amount of character for a horror movie. Lohman's transition from frightened fawn to self-reliance is a joy to watch and her doting upper-class boyfriend is played with a nice mix of humor and earnestness by Justin Long. A key dinner where Christine meets his parents is fraught with all kinds of nervous expectations, nevermind the fact that Christine has a powerful curse on her that could go wrong at any moment. Oscar nominee Adriana Barazza ("Babel") is even along for the ride as a medium who has some experience with the Lamia.
As with any horror movie, there is  a certain amount of suspension of disbelief, but Raimi's kinetic energy and commitment on both sides of the fence make for one hell of a fun time. "Drag Me to Hell" doesn't have the creepy, slow burn of a Cronenberg movie (although there is plenty of body-related squeamishness) or the classy suspense of a Hitchcock flick. It's more like a rollercoaster that was built in the 80s. It's a rough ride that jostles you around a lot, provides some cheap thrills, and when it's all said and done, you and the person sitting next to you are laughing so hard you can barely contain yourself. It may not be the newest in ride technology, but it provides some definite kicks.