This is part two of an article that starts with a review of "Frost/Nixon."
'Tis the season for play adaptations, as the recent releases of "Doubt" and "Frost/Nixon" can attest to. Adapted from his own 2005 Tony-winning play, writer/director John Patrick Shanley's "Doubt" is one of those movies that you come away from thinking mainly about the strength of the performances.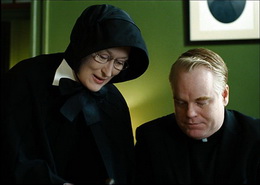 While Ron Howard's camera does the heavy lifting for his actors, John Patrick Shanley ("Joe Versus the Volcano") lets loose two Oscar-winning actors in a war-of-words deathmatch in his film version of "Doubt." Meryl Streep finds not only the tightly-buttoned and unswerving righteousness of Sister Aloysius, but also a wickedly funny side that is probably unbeknownst to the nun, who serves as principal of a Catholic school in the Bronx. Philip Seymour Hoffman plays Father Flynn, a priest who relieves any guilt he may be feeling in his sermons about a improper relationship he may or may not have with a young boy in his Parish.
The film's central conceit is that moral certainty is a slippery slope, and what better place to play out this battle of wills than in the morally sanctified house of God? Amy Adams is caught in the middle of the two very persuasive personalities, and serves as a stand-in for the audience's wishy-washyness.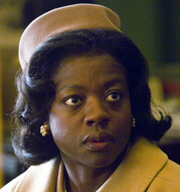 Shanley uses all kinds of visual clues to let us know what he wants us to think—a suspicious gesture viewed voyeuristically, a thunderstorm as a spiritual crisis, a stained glass window at a tilted angle—but the back and forth "did he/didn't he" becomes less interesting as the movie wears on.
What fascinated me about "Doubt" were two peripheries: The blatant sexism of the 1960s Catholic church and the anguish of a terribly conflicted mother, played by Viola Davis. Aloysius' silent mealtimes with her nuns are a far cry from the jovial meetings of the male priests, and Flynn is as offended at the charges she makes against him as he is that she has the audacity to make them at all. He hides behind the protection of the church's male-dominated hierarchy, and Hoffman does an impressive job of showing the entitlement his character feels.
Davis, who is on the way to a surefire Oscar nomination, has one spellbinding scene where she deflects all of Aloysius' high-ground judgments as matters that don't concern her. The fact that she is willing to let go the very thing that has Streep's single-minded nun so worked up is unfathomable to Aloysius.