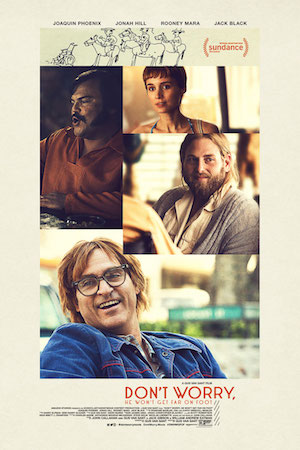 [Rating: Solid Rock Fist Up]
A non-linear meditation on one man's struggle with three things: alcoholism, self-worth, and personal accountability…oh yeah, and chest-down paralysis, Don't Worry, He Won't Get Far on Foot is outstanding. Director Gus Van Sant's unflinching portrait of a sometimes deeply unpleasant person is almost as brave as its subject, side-stepping more obvious and tired tropes of the genre so as to uncover new truths about a few very old topics. And while the narrative stands well enough on its own, the structure and approach to this story are what save it from the rote redemption arc that could have smothered the emotional thrust of the film.
Employing a technique that remains consistent throughout the film, Van Sant opens on cartoonist John Callahan (Joaquin Phoenix) giving a speech from his wheelchair in an auditorium, then giving that same speech at a different time in an Alcoholics Anonymous meeting. As he talks about the day he was paralyzed, the movie jumps from these moments into others tangentially related, then back again. It's a very train-of-thought kind of visual exercise, one that connects stories from the past, later-past, recent-present, and "now" in a fragmented yet narratively consistent manner.
In this way, the audience tracks John's emotional growth, which has several anchors in different portions of his life depending on the stage of his sobriety (or lack thereof). The bones of the script take shape around John's progression through his twelve-step recovery, and take an honest look at the ways people grieve, heal, and reconcile the demons that fuel one's addictions. Early on, John is guided through this recovery process physically by a healthcare practitioner, Annu (Rooney Mara), but he later realizes that an emotional caregiver is needed as well. He finds this at an A.A. meeting in Donnie (Jonah Hill), who is sponsoring a small group of other alcoholics that form a new tribe for John.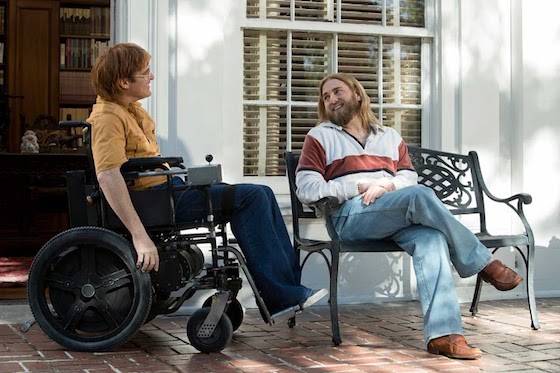 Through these A.A. meetings, the audience learns that John was a pretty bad drunk before his accident, and a no-less troublesome one afterwards. Yet the drinking is just a symptom of a larger problem stewing inside of John, and until he goes through the process of admitting he has a problem, surrendering his will to a higher power, apologizing, etc., he can't be made whole. As Donnie and the support group nudge John through the twelve-step process of recovery, a new man begins to emerge in the saddle of the motorized wheelchair.
It's a fascinating journey that is thoughtfully scripted and staffed with a cast that is more than up to the challenge. Donnie's A.A. circle is an embarrassment of acting riches, from the always-reliable Udo Kier as Hans, to the genuine, lived-in characters of Reba (Beth Ditto) and Corky (Kim Gordon): the musicians who play them turning in A-list performances. Through these meetings and the accompanying flashbacks/flashforwards, the audience obtains a more complete picture of a man damaged but not broken. As the structure of the movie hints at, John's journey is not a straight line, so getting these chunks of the story in the way they're offered meshes appropriately with the thematic rhythm of the effort.
And if Phoenix is the high-octane fuel of this movie, what with his labored movements and booze-fueled anarchy, Hill is the steering wheel guiding it to safety. As Donnie, Hill imbues the film with a sense of calming direction, both for John and the audience going along for the ride. It would have been easy to go broad with the performance, or to play up the character's unspoken past, but Hill wisely dodges this trap. He plays the role with a guarded, yet sympathetic air about him: like a caring man who has known many Johns in his life, and has been wounded by more than a few of them.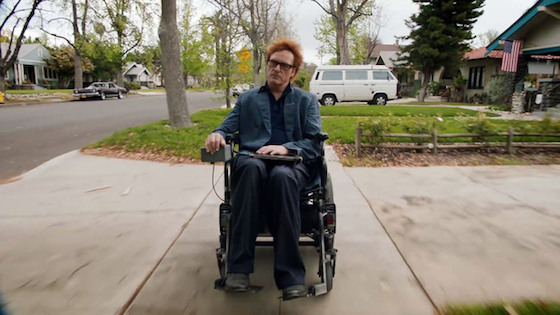 Yet in the most surprising twist of all, it's Jack Black who just about steals this movie. Playing Dexter, a friend of John's from his pre-wheelchair days, Black has a scene with Phoenix near the end of the picture that's so raw it would be illegal to serve it in a restaurant in 28 states. Known for his "big" performances and over-sized personality, Black goes to places in this scene he's never approached, and few could equal. It's a credit to Van Sant, really, who saw vulnerability and nuance in Black and Hill's comedy, which he put to exquisite use in Don't Worry, he Won't Get Far on Foot.
Aside from the structure of the film, Van Sant makes a number of interesting decisions with the framing of his one-shots, particularly his habit of putting characters just barely in the foreground during John's A.A. meetings. Whether it is to symbolize the obstacles in John's life, or his place in a community where he is no longer alone, it is a striking move. Less inspired is the presence of Mara's Annu character, who drifts in and out of the picture with little explanation or independent purpose. Annu doesn't interact with anyone except John, and doesn't seem to contribute to his recovery except to appear every few years to cheer the guy up a bit. Perhaps most telling, it seems entirely reasonable to assume that were Annu to vanish from the movie, nothing about the finished product would change.
Still, Annu represents one of the few missteps in the film, which runs lean and mean at about 110 minutes. Out this week, Don't Worry, He Won't Get Far on Foot is an outstanding character study with several layers of emotional growth woven into it. It's hard to imagine Hill and Phoenix sitting out the awards season for this one, which makes its mid-July release somewhat curious. A world apart from the summer blockbuster carnage inflicted by its current competition, Van Sant's film is a breath of fresh air, and worth seeing for the performances alone. Summer release though it may be, this one has the legs to carry it into Oscar season (a fitting irony considering its subject matter).