Indie filmmaker and contributor Trey Hock emailed me this morning with this passionate negative counterpoint to my review and Aaron's review of "District 9," proving that this is a movie that will generate lots of discussion. Here's Trey:
What could have been a gripping, insightful, political drama unravels to become a chase film, splatter-fest in all the worst ways in Neill Blomkamp's new sci-fi movie.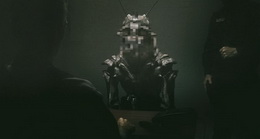 "District 9" starts off as a documentary-style drama with obvious references to recent political refugees who would flee their homes in large shipping containers. An alien mothership descends and hovers over Johannesburg, South Africa for three months. When the authorities finally decide to enter by force what they find are malnourished bug-like aliens living in their own filth. The country gives them asylum and establishes District 9, a shantytown, on the edge of Johannesburg. The tensions surrounding the alien slum rise and fester over twenty years, until finally a relocation program is instituted.
Sounds great so far. Yeah, the first twenty minutes was solid. But if you're looking for something that is going to build dramatically, and gesture to the political struggles in South Africa, Darfur, or other ethnically tense regions around the globe, oh you're so wrong. That is not to say there weren't references though. Nope, there were plenty of those.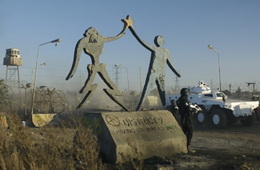 For those that like the first part, you can stop watching when Wikus, the main character, gets sprayed in the face with alien goo. For those that were bored, and were hoping for another hefty dose of Michael Bay this summer, well you're in for a treat.
At this point, the film becomes a ham-handed mish-mash of most science-fiction action movies you can think of. You start with "Alien Nation," then add "The Fly," stir in some of "The Rock" to get our closed-off military swagger on, and dump in a healthy amount of "Aliens" so we can get our bio-mech groove on at the end.
The main problem is this film is a pale shadow of the films it references. Like a band which is inspired by a much cooler band, I would rather spend time with the source of inspiration.
Ultimately, the film devolves to a zombie-like splatter fest, and much of the original content is lost or forgotten. For the lovers in the room, don't worry, there is still a sad-happy ending, which I think gave a small stroke. So because I only have partial functionality of my left arm at this point, I can only give this film a rock fist way down.