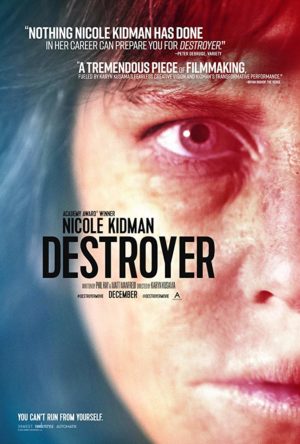 [Rating: Minor Rock Fist Down]
I am a fan of Nicole Kidman, and I have been since I was old enough to start caring about movies and collecting useless trivia in my head. I love Malice and To Die For and The Hours and The Others and the chartreuse dress with the fur. I hate Moulin Rouge, but nobody makes perfect career choices.
I enjoy her transformative powers, and I don't mean a fake nose. What Kidman brings to Destroyer, a revenge drama directed by Karyn Kusama who also brought us Girl Fight and The Invitation, is her ability to find the human frailty and imperfections of a character and use it to bring a multi-dimensional, nuanced human to the screen. She doesn't do it all the time (ahem, The Upside), but she does it here.
And Erin Bell, Kidman's character, is nothing but frailty and brokenness – using her mission of revenge to fuel her days (she seems to subsist on nothing else) working her way through the depressing remnants of a crime ring to find the boss, Silas (Toby Kebbell). Silas was recently released from prison and already seems to be stirring up trouble.
The narrative relies on flashbacks to explain the current mission. Fifteen years ago, a younger, more beautiful Erin was a new cop assigned an undercover mission with Chris (Sebastian Stan) to infiltrate Silas' group. Infiltration meant sex and drugs, and Erin took to her new role, complete with moral compromise. But, the whole endeavor goes sideways, and in the present day, Erin wants to make good.
"Making good" also means reconnecting with her 16 year-old daughter, Shelby (Jade Pettyjohn). Shelby is furiously acting out against her mother, while Erin inexplicably suddenly tries to make good with the girl.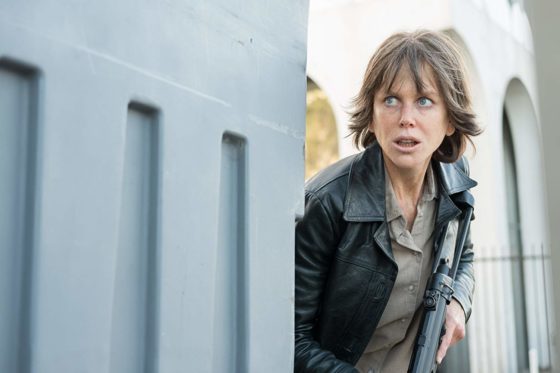 Kidman does a bit of a transformation – it's interesting to see how alarming somebody that thin can look when they don't have a glamour team. It's reminiscent of Christian Bale in The Machinist – regret and vitriol have hollowed this woman out. But is that all? Is she an addict? An alcoholic? Ill? Erin looks decidedly unhealthy and not ok – but there's no explanation. In The Machinist, we know it's guilt. In Destroyer, there were other obvious ways to assuage the guilt – so it's harder to explain.
None of the characters really come together. While Erin lacks an obvious motivation, Silas seems like a very blasé menace. The Silas discussed by the characters is menacing and terrifying and dangerous. The Silas on screen is a bit of sadist, but lacking in power. He isn't charismatic or dangerous or sexy enough to explain the control and power he is given.
It's that nihilism that seems so prevalent in this year's crop of award nominees – the whole endeavor seems like such a waste. Why dig through the dregs of humanity and debase herself to avenge someone who died 15 years ago when she could have been obviously honoring his memory the entire time. Did she not because of addiction? Then where's a needle? If it's about taking somebody dangerous off the streets, that doesn't jive either – as she doesn't seem to hold the morals of right and wrong in particularly high esteem. And, for the love of god, WHY WERE THEY IN THE WOODS?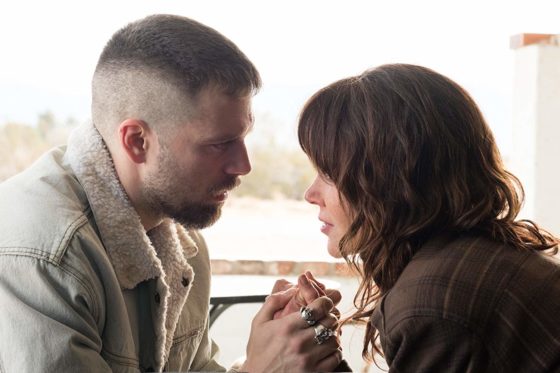 The technicals of the movie are good. Kusama takes a somewhat brutal take on the story – sparing no indignity or debasement as Erin revisits her own history to find her target. The scenes are tense, the editing excellent and the acting is gritty. Kidman deserves that Golden Globe nod. Bradley Whitford is particularly good as a scruple-free lawyer. Tatiana Maslany's aging moll is both tough and pathetic. But the movie, while it brings in revenge and heists and action, is ultimately a character study – and there wasn't enough continuity of motive.
The movie ends with a scene that could be interpreted as a possible turning point – a moment where Erin could have made a different choice and set her own life down a different path. But even that scene is so wrapped up in questions (Why are they there? Where are they? What were they doing?) that it's distracting. But it's emblematic of the problem with the movie – for every well-acted, emotional performance there are at least five plot questions.