"The Hurt Locker" is one of those movies where the story arc just kind of sneaks up on you when you're not looking. It's a lot like the situation that its principal characters find themselves in every day.
Bomb defusers must always be alert. A man on a cell phone peeking out from a doorway in Baghdad on a deserted street is a potential sign of danger for Bravo Company's Explosive Ordnance Disposal squad (EOD), three U.S. Army soldiers who find themselves in unbearably tense situations on a regular basis.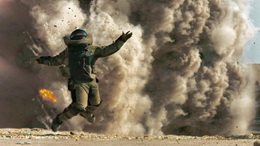 These are the guys who get called in every time there is a car trunk that is suspiciously weighed down or an unidentifiable homemade device is found sticking out of a trash heap. Director Kathryn Bigelow is the perfect director to bring this story to life, having previously tackled men with adrenaline rush addictions in "Point Break" and "Strange Days."
Because "The Hurt Locker" is told in an episodic fashion, dominated by several extremely tense EOD situations, a lot of character-building happens in those "action" scenes. Noticing the subtleties in how differently the men handle a sniper shoot-out or the defusing of an improvised explosive device is key to interpreting the non-political Iraq War film that Bigelow and former embedded journalist/screenwriter Mark Boal have made.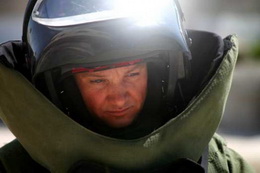 For some soldiers, their situation is deceptively simple. As the quote from New York Times war correspondent Chris Hedges that opens the film says, "War is a drug."
Jeremy Renner plays Staff Sgt. James, the new hotshot leader of the EOD team. Don't let the term "hotshot" fool you, however. James is not the Maverick-"Top Gun" type in the typical gung-ho military film. That particular role in "The Hurt Locker" is a small one—a macho colonel played by David Morse, who goads James into admitting that he has defused 873 bombs. He may keep his head low and not like to brag, but James clearly keeps track. The title of the film comes from a box of wires and parts he keeps under his cot that almost killed him.
By-the-books Sgt. Sanborn (Anthony Mackie) is counting down the days left in Bravo Company and wants what James has back home—a family. But when James stares right through a picture of his son, the picture of what James has become gets a little more clear. Specialist Eldridge (Brian Geraghty), on the other hand, can't take the stress anymore and wants out immediately. Confidence for him comes in the most unlikely of places during one intense battle when James encourages Eldridge to be a better soldier.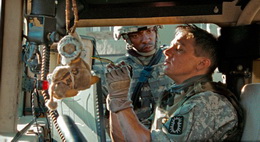 Even though James is clearly dangerous to the squad (which seems always on the verge of collapse), he might also be crucial. "The Hurt Locker" blurs this line constantly. Although he is assured and precise when it's time to defuse something, his emotions get the best of him when he ventures outside of that (un)safe zone. Renner internalizes everything in a riveting, natural performance that doesn't follow the traditional showy style of Oscar-caliber stuff—but he just might sneak in there to get a nomination next year, depending on the amount of higher-profile competition.
The action scenes are delivered with an emphasis on the real and the unexpected. Bigelow ramps up the visceral tension with help from cinematographer Barry Ackroyd, who also lensed the terrifying docudrama "United 93."
"The Hurt Locker" only falls into familiarity with a couple scenes towards the end that thankfully are very short and don't diminish the power of the rest of the movie too much. Boal's screenplay is simple but effective and Bigelow delivers in spades on the suspense factor. The end result is a film that slowly works its way into your head (and James') and will probably linger for quite a while there too.