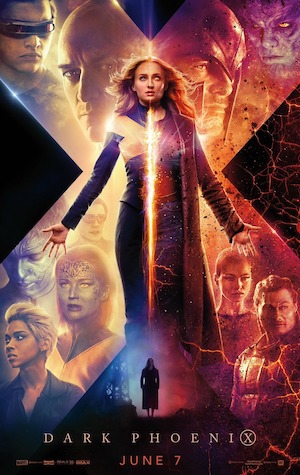 [Rating: Minor Rock Fist Down]

The X-Men stormed into theaters 19 years ago led by an up-and-coming actor named Hugh Jackman and gaslit the comic book movie mania that has consumed Hollywood.
Now, with Dark Phoenix, the mutant superheroes are serving their final mission under the 20th Century Fox studio banner before they officially become the rightful property of Marvel Studios — and the results are wildly underwhelming.
Set in 1993, it's basically a re-do of the 2003 disaster X-Men: The Last Stand, Dark Phoenix focuses on Jean Grey (Sophie Turner) as she struggles with the potential of her powers. When she is consumed by an extra-terrestrial entity while on a space rescue mission, she begins to lose control, dividing her fellow X-Men (and women) into those who want to save her and those who think she must be stopped at all costs.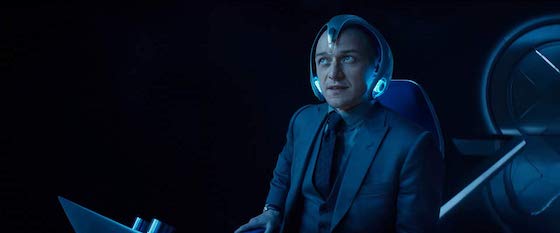 First off all, this movie isn't nearly as bad as X-Men: The Last Stand, but it also really never feels important, especially considering it's bringing this franchise to a close. There are some good action sequences and for the most part, the effects are pretty eye-popping. Focusing the story on Jean might have felt like it held a little more weight had we had more time to get to know her as a character, considering she was just introduced in the last film. But the reliance on the audience's emotional connection to Jean and her mutant boyfriend Cyclops (Tye Sheridan) never feels authentic.
In fact, a lot of the characters we've been following since the First Class reboot in 2011 are mostly pushed to the side in favor of the Jean-centric plot. Nicholas Hoult (Beast) and James McAvoy (Professor X) get a large share of the screen time that's left, but even then it feels like director Simon Kinberg is setting out to destroy what little character development has been established through this reboot.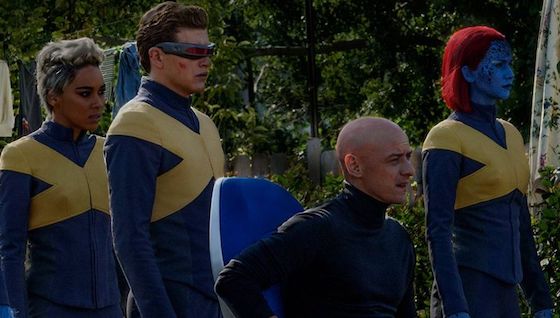 That's not to say there aren't good performances. Given what they have to work with, the cast is mostly solid. Jennifer Lawrence (Mystique) isn't around long though, Michael Fassbender (Magneto) is wedged in but really isn't given much to do and scene-stealer (see what I did there?) Evan Peters (Quicksilver) is also relegated to back up duty. So if you're looking for a sweet hero moment from him, don't. And no, there isn't a surprise final cameo from Hugh Jackman, which also makes sense because this movie apparently is no longer trying to remain connected to the original movies the way this reboot series once was.
Then there is the ultimate threat of the film, which is – and isn't – Jean Grey. There are some shape-shifting aliens led by bleached blonde Jessica Chastain in an extremely dull roll. The purpose and agenda of these aliens is never really understood other than they want Jean to help them take over Earth. Ultimately it feels like this movie and the last one, Apocalypse (2016) should have been flip-flopped in the narrative.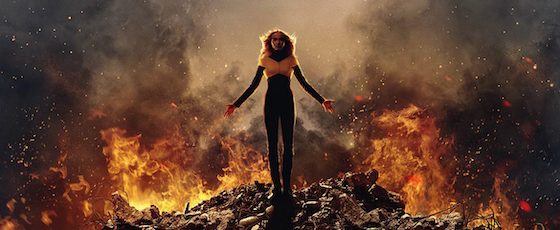 It's never a truly bad movie, but at times it feels like Dark Phoenix really wants to be a better movie. I actually left the theater thinking I didn't hate it as much as the trailers led me to believe I might. It just feels unimportant and at times the filmmakers seem disinterested, maybe because the cast and crew know they have zero future after this flick, which is disappointing because some great films were spawned from this page in the X-Men cinematic universe.
Dark Phoenix is a pretty odd and a largely dissatisfying end to the near mostly tremendous 20-year run of Fox's X-Men franchise. Ultimately, it feels like about half way through filming, they all found out they were losing their jobs anyway (because of the merger) so they filmed a few scenes to try and makes it seem less similar to Captain Marvel and then just kinda ran out the clock. Shame.