If you are one of those moviegoers who needs simple, clear-cut reasons for the motivations behind your main character, then Steven Soderbergh's rollicking big business satire "The Informant!" is not for you.
The director has handled this kind of corporate whistle-blowing story before in "Erin Brockovich," but this movie is another beast completely. With a schlubby, mustachioed Matt Damon and his part-trivial part-fantasy deadpan voiceover, Soderbergh is putting the impishness of his title character front and center.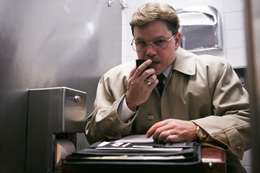 Damon gained about 30 pounds to play real-life agribusiness VP Mark Whitacre, a man whose button-down biochemist background is at constant odds with his responsibilities as a manager. Despite the fact that "The Informant!" is based on the non-fiction novel by Kurt Eichenwald, onscreen titles tell us at the outset that some true events have been altered and some characters are composites, before adding a telling kiss-off: "So there."
That pretty much sets the tone for a movie that plays itself considerably lighter than the Coen brothers, but still pokes fun at rural Midwestern sensibilities like "Fargo," while also managing to break down the wall of corporate power to reveal an astonishing amount of cluelessness. A summary of the movie can't do justice to the amount of farcical goings-on.
Whitacre's response to the falling revenue at Archer Daniels Midland (ADM) is to tell his boss that there is a mole within the ranks conspiring with the Japanese. When the FBI is called in, he inexplicably tells them that his company has engaged in price-fixing on the food additive lysine, and that it's basically a matter of corporate policy across the board.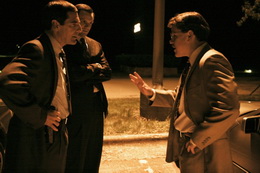 This corporate rising star may be the only person in the movies who gleefully wears a wire. Whitacre becomes the lynchpin of a massive investigation and begins to imagine himself as some kind of secret agent for the common man, even calling himself Agent 0014 because he's "twice as smart as James Bond."
As glimpsed by Soderbergh and his Red digital camera, the film's setting of Decatur, Ill. is all drab office buildings, strip malls, and blown out light coming in through every window. It's not the traditional setting for a tale of corporate espionage, and these are just a couple of the many creative choices designed to set this movie apart. At times, it's a bit much.
The old-fashioned Marvin Hamlisch score (evocative of his work in "The Sting"), the deliberate 1970s font in the title credits (despite the fact that the movie is set in the early 90s), and the lighthearted minutia-based narration all make Soderbergh seems like he's trying too hard to spell out the outrageousness of the story. Somewhere along the way, however, the absurdities pile up and his brassy stylistic choices become less annoying.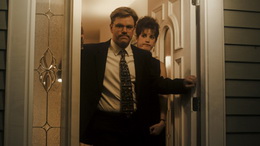 Soderbergh struggles more when it comes to Whitacre's home life. There just isn't enough time to make sense of his relationship with wife Ginger (Melanie Lynskey). On the other hand, having comedic actors like Joel McHale, Patton Oswalt, Paul F. Tomkins, and Tony Hale pepper the cast throughout the film—but play it totally straight—is a gamble that pays off. (A couple of rare cameos by the Smothers Brothers are really delightful.) And Scott Bakula's hilariously furrowed FBI agent is a real treat as well.
In the end, though, it's the nervy lead performance of Matt Damon that makes "The Informant!" more than high camp. He grounds Whitacre with an odd mix of book smarts, bewilderment, and self-righteousness that has more in common with Jerry Lundegaard ("Fargo") than Jeffrey Wigand ("The Insider").
Whitacre's actual motives and actions are obscured for most of the film, but watching the man constantly dig himself into a deeper hole has the ring of truth. A late, game-changing revelation about him proves that a story this absurd couldn't possibly be fiction. Or at least not all of it.
So there.