[Rating: Swiss Fist]
Now showing at the AMC Barrywoods and AMC Ward Parkway in Kansas City & VOD in October.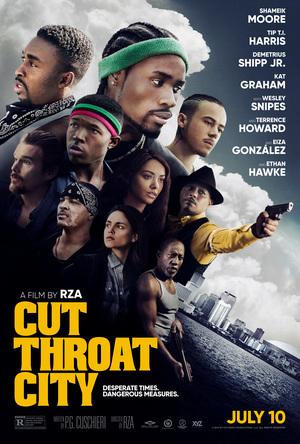 RZA'S Cut Throat City opens with beauty and hope. But if 2020 has showed us anything, is that things quickly change.
The artful title sequence segues into our first meeting of four boyhood friends: Miracle, Andre, Junior and Blink (Demetrius Shipp Jr., Denzel Whitaker, Keean Johnson, and Shameik Moore respectively). Blink is getting married and everyone is celebrating. The four are low-level drug dealers trying to make it in New Orleans' 9th Ward in the days leading up to Hurricane Katrina.
Then the storm hits. RZA intertwines news footage of the flooding, people walking across the Crescent City Connection and the aftermath of destruction laid waste by the hurricane.
The four escape and survive the storm, but return to their homes and lives destroyed. With little to no options, they turn to Cousin Bass (Tip T.I. Harris), the gangster who runs their part of town. He offers them a job, rob a casino. But, you can probably guess that the heist goes bad, one of the boys dies and the remaining three spend the rest of the movie scrambling. Cousin Bass thinks they stole his money, so now the boys are in even more trouble. And to top it all off, a young, hotshot detective (Eiza González) is hot on Blink's trail, investigating the heist.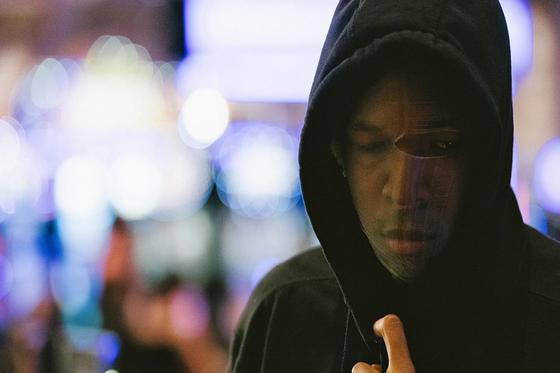 The film is entertaining, in a 90s action, Set It Off or Juice, sort of way. At times, weaving the realities of what happened during Hurricane Katrina even made the film reminiscent of Spike Lee's BlacKkKlansman. Lee's ideologies rubbed off on RZA because at one point in Cut Throat City, the four friends are arguing about Quentin Tarantino use of the "n" word in his movies, something Lee has been outspoken about for years.
Two things stood out to me though; the use of music and how subdued the film was. With a musician behind the camera, it made sense that the New Orleans' sound – jazz horns and comforting soul – would play a big part in the film. When I say subdued though, I'm comparing this to RZA's first film, The Man With The Iron Fists, which had a big spectacle feel. Something I was expecting with Cut Throat City but never received.
Ethan Hawke, Terrence Howard, and Wesley Snipes also pop up in the film, and while it's fun to see them, all three of their character only slow down the movie, none more than Hawke's city councilman's character, who isn't fully explained why he's invested in the investigation of the casino heist. Howard and T.I. have a scene together though, that was unintentionally funny because both speak with a deliberate drawl. It almost feels like they're trying to outdo one another with who can speak slower.
The ending is a little confusing though. Without giving too much away, if it's a continuation of the story, and not a dream sequence, then it makes no sense and isn't properly explained. The film didn't need this ending and it felt like RZA threw it in to circle back to the hopeful opening sequence of Cut Throat City. But, what we learned from the character and players involved was that hope was few and far between for black people in New Orleans following Hurricane Katrina. Leaders were blaming one another and FEMA wasn't helping. So why end the movie on hope?