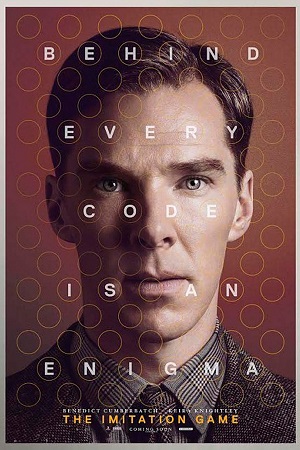 [Rating: Solid Rock Fist Up]
 The Ugly Duckling is a children's story about a group of ducklings with an odd one out, that eventually evolves to be the most beautiful swan in the pond. In much the same way, you might be able to say in many ways that Alan Turing growing up was the ugly duckling, never fitting in and being picked on, who went on to became ultimately one of the most important people of the twentieth century. And yet, nobody seems to have heard of him.
Until now.
Benedict Cumberbatch stars in The Imitation Game as Alan Turing, the eccentric and often oblivious mathematician recruited by MI6 to break the Nazi Enigma code. Directed by Morten Tyldum (Headhunters), The Imitation Game is an enjoyable and well-done biopic that lacks a certain intangible hook which holds it back in my mind from a Best Picture nomination, despite some of the nods it has already gotten.
Taking place in three parallel time periods of Turing's childhood (1928), work during the Second World War (1939-45), and later life (1951), The Imitation Game tells the story of how Turing went from misfit to comrade to outcast in the span of a tragically short lifetime. The film opens with Turing having reported a robbery in his home in which nothing was stolen, and a curious police detective begins to look into Turing's past, seeing his military file is classified. Naturally we then jump back about 13 years to him being recruited to MI6 to work in what is totally just a radio factory and not a top-secret think-tank. Turing goes from team member to team leader in a short time and by order of Winston Churchill himself, earning the enmity of his team members, which he must then learn to reconnect with. Spoiler alert, they crack Enigma, and the Allies win WWII.
Part of what bothered me about The Imitation Game is the way they beat you over the head with this incredibly cliched tagline: "Sometimes it is the people no one imagines anything of who do the things that no one can imagine." Frankly, it almost doesn't jive with about 50% of the characters' attitudes towards Turing. Aside from some boys he went to school with, everyone seems to realize that Turing is the wunderkind who can do the things that nobody else can. Everyone has the expectation that he's brilliant, despite the fact that he spends much of the film earning the trust and friendship of his team of cryptanalysts.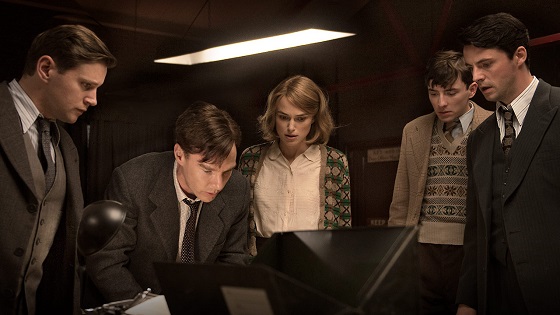 Cumberbatch once again shows his exceptional acting ability and co-star Keira Knightley shines in a role I wasn't sure she could take on, however the two show great chemistry on-screen and Knightley's acting chops are up to the challenge. Knightley plays Joan Clark, equally an odd duck as she's a brilliant women in a very male-centric field, and having to abide by rules of society requiring women to act modestly and not associate openly with so many men, even in the workplace.
What I really enjoyed about this film is the way that the filmmakers used the example of Alan Turing to make a point about the history of gay rights in Britain (and in general), as Turing's closeted homosexuality plays a central role in the film, and in fact, causes his accidental suicide after undergoing a year's worth of  chemical castration treatments ordered by the British government in 1954. Turing was 41. It's interesting to note that in 2009 the internet campaigned for then-Prime Minister Gordon Brown to issue a public apology for the treatment of Turing, and Queen Elizabeth II gave Turing a posthumous pardon in 2013.
A fun bit of trivia: the title of the film comes from an old party game of the same name in which a man and a woman try to convince a third player that they are the other gender through typed answers to questions. This game is the basis for what is now known as the "Turing Test," which measures the ability of a computer system to display behavior similar to a human's.
The Imitation Game is a noteworthy biopic in an increasingly growing genre (films like Get On Up, The Theory of Everything, and the upcoming film Selma among others come to mind), and despite its heavy-handed handling of certain themes within the film, it's an enlightening look at one of the most tragic figures in the history of technology, and a must-see for anyone with an appreciation for the history of the computer. And naturally, a must-see for ugly ducklings, as well.