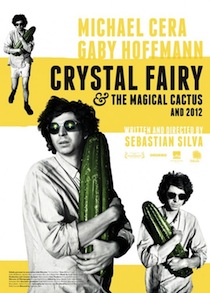 Wacky road trip movies are a staple of modern cinema, but they go all the way back to the 1930s. What makes these auto-motivated films work? They allow a small group of characters to do something, while at the same time forcing these characters to interact with each other far beyond polite conversation.
Crystal Fairy starts as a lark. Jamie (Michael Cera), a spoiled kid from the States, fuels his Chilean voyage with partying, drugs and preconceived notions of how his experience in South America should be. Jamie plans a road trip to the beach where he and his three Chilean Friends, Champa (Juan Andrés Silva), Lel (José Miguel Silva), and Pilo (Agustín Silva), will cook and ingest San Pedro cactus for its mescaline.
Two things stand in the way. They do not have any San Pedro and Jamie has inadvertently invited a strange and free-spirited woman, Crystal Fairy (Gaby Hoffmann), along for the ride.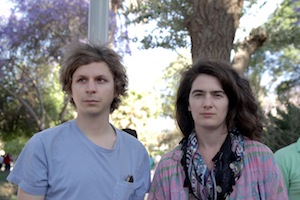 What starts as an awkward comedy, as the tension between Crystal Fairy and Jamie builds, becomes an anxiety drama about self-discovery and our preconceived notions of one another.
Crystal Fairy attempts to get the four young men to open up and share their fears with one another, while the closed off Jamie cracks wise and obsesses over the preparation of their hallucinogen. His fixation on the drug and its consumption alienates his companions, while Crystal Fairy's awkward openness is goofy and endearing.
What makes Crystal Fairy a strong film is that writer and director Sebastián Silva covers a lot of ground with a simple road trip premise.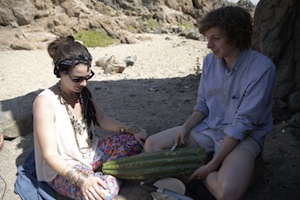 One can scrutinize the interactions between the Chilean and U.S. characters. The Chilean men get stuck between these two U.S. travellers, often reluctantly bending to the will of either Crystal Fairy or Jamie. A viewer could also explore the complexity of the two main characters, and find joy in the fact that Jamie is not just a relaxed easy-going party boy from the States, nor is Crystal Fairy a one-note Earth mother figure.
Crystal Fairy is not perfect. The blend of comedy and drama is not always seamless and the emotionally dark moments of this film may catch viewers off guard, but both Gaby Hoffman and Michael Cera turn in strong performances. Hoffman's willingness to be awkward and at times unattractive, and Cera's ability to create a mostly unlikeable character both deserve praise. This coupled with director Silva's ability to make us like both Jamie and Crystal Fairy by the end, make Crystal Fairy a worthwhile watch.