In David Cronenberg's moody new crime drama "Eastern Promises," the narration from a dead Russian girl's diary provides a jarring dash of naïveté that is in stark contrast to everything that has come before it. She speaks of immigrating to Great Britain, and her hopes and dreams once she arrives. What awaits her, however, is an awful life as a sex slave for the Vory V Zakone, a first generation Russian mob family.
Set in the cold, rainy streets of London around Christmastime, "Eastern Promises" is as unlikely a holiday movie as you'll ever get. From the graphic opening scene of a throat-slashing mob hit, the film establishes a palpable sense of dread and danger that hangs over the entire film like a dark cloud.
In "A History of Violence," his last terrific collaboration with Viggo Mortensen, director Cronenberg explored the fine line between the light and dark side of men's souls. The pair is at it again as Mortensen plays Nikolai, a mob driver and bodyguard who hides everything beneath a tough-as-nails facade. There are more genre conventions this time out, but no shortage of deep performances and expressive filmmaking.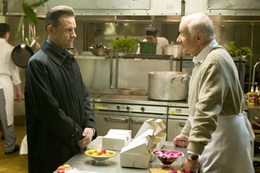 Working from a script by Steven Knight ( "Dirty Pretty Things" ), the story begins with two deaths and a new life. The dead girl's baby falls into the hands of a nurse named Anna Khitrova (Naomi Watts), whose motherly instincts take over as she begins a search for poor teenager's family. This leads her to the seemingly warm environment of an old world Russian restaurant and its proprietor Seymon (Armin Mueller-Stahl), a disquieting man whose graciousness never seems sincere.
At the heart of the movie is Mortensen's Nikolai, who is a moral paradox. An immediate connection is sparked between Anna and the stoic family chauffeur. His tattoos tell the story of his life in prison and the mob, but his eyes betray more complexity than he lets on. Mortensen's performance is confident. His rigidity suggests a brutal past for his character, but also subtle shades of decency. We spend most of the movie trying to figure out Nikolai's interior monologue. Mortensen blurs that line constantly with little more than a look.
As with many Cronenberg movies, the director seems less interested in the plot histrionics and more interested in what one considers 'normal.' Anna's mother has her own definition. When finds out the people her daughter's been dealing with, she realizes the stakes and begs her to go nowhere near them again. "We're ordinary people," she warns her. Anna's persistence will test the Russians and force them to re-examine their loyalties.
Some of the plot conventions are a bit too convenient and one key story development calls into question the believability of the pre-film timeline. Still, Knight's screenplay accomplishes character-building and multiple set-ups with invisible efficiency, and Cronenberg wastes no time on any moment he doesn't absolutely need.
It is not the histrionics that keep us hooked. What lingers long after the movie has ended are the characters. Mueller-Stahl and Mortensen's performances are deeply felt. Cronenberg's expertly-rendered somber tone lends weight to the script, as he frames both men in close-up throughout the film and uses music sparsely. A fight scene in a bath house which is already becoming infamous for more than its immediately prurient interest is an intensely grueling moment that will never be forgotten.
"Eastern Promises" unfolds in the opposite direction of the increasingly hopeless diary entry narration that encloses it, moving towards a more conventional conclusion than one might expect. The haunted figures that populate its story, however, paint a portrait of ideological multiplicity more memorable than any plot twist.