Sometime in the 1970s, rock n' roll became big business. (If I had to place it, I'd say around the time A&M Records pushed Frampton Comes Alive to quadrillion-platinum status.) But before the corporate world really knew how to create artificial buzz and market rock music, it was the territory of dreamers, stoners, hippies, and outsiders who all had vaguely the same socio-political view.
Filmmakers Joe Heyen and Anthony Ladesich have captured that last gasp with a sweet cloud of nostalgic smoke in the documentary "Cowtown Ballroom … Sweet Jesus!" The film, which chronicles the short life of a grassroots rock venue in Kansas City, Mo. that attracted some of the country's best talent, isn't merely about what happened when the hippies took over the giant ballroom on 31st and Gillham from 1971 to 1974. Instead, the venue itself was kind of a local lightning rod for the changes that were sweeping the country at the time.
There's that old saying that everything happens on the coasts first and then slowly trickles to the Midwest. What's interesting about "Cowtown Ballroom" is that it views the small group of music fans and ill-advised entrepreneurs who opened the independent club as just as important as one would view, say, the hippies of Haight-Ashbury in 1967. Being a Kansas City native, it's quite an eye-opener to see hastily thrown together events happening in Volker Park with thousands of kids in attendance.
In 1927, the club was known as the El Torreon Ballroom and during its run hosted jazz legends like Count Basie, Jay McShann, and Cab Calloway. It was the only integrated club in town—a place where black musicians performed regularly for white audiences. B.B. King, who would play for a mostly white audience at the Cowtown some 45 years later, recollects being young and stoned out of his mind listening to the sweet music coming out of Kansas City until the wee hours of the morning. But that's another story—one briefly touched on just enough to give us some historical context.
The movie is more about the scene than it is any one building, and apparently it was an exciting time in Kansas City too. Cowtown founder Stan Plesser ran a coffeeshop called the Vanguard in the late 1960s and came in contact with Kansas City transplants Danny Cox and Brewer & Shipley (who had a hit with the pot-smoking anthem "One Toke Over the Line"). He formed Good Karma Productions to manage the acts and once the Cowtown Ballroom was in full swing, Good Karma was signing and supporting local artists like the Springfield, Mo.-based Ozark Mountain Daredevils as well.
The Cowtown Ballroom's highlight reel also includes the production of one of the first ever concert series broadcast live on the radio. Stories about the "Live at Cowtown" recordings, as related by the engineers who were behind them, reveal a charming naiveté—they may not have known what they were doing, but that wasn't going to stop them. By all accounts, though, the quality of the recordings was great.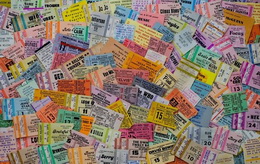 The production value for "Cowtown Ballroom … Sweet Jesus!" is top notch, featuring none of the amateurish lighting, motion graphics, or cinematography that mars other low-budget documentaries. Ladesich's editing is spot-on too, and covers a lot of ground, cramming in a crap-ton of music and vintage photographs in a short amount of time (about 80 minutes). Visually and sonically, "Cowtown" manages to capture much of the era's freewheeling atmosphere—a wonder considering the filmmakers never found the supposed treasure trove of old sound recordings that led them down this path to begin with.
It's hard telling a sweeping story without one or two main characters to really latch onto, and even harder when there isn't one central conflict or defining moment. Still, thanks in part to the huge breadth of interviews that were conducted for this movie, director Heyen and editor Ladesich score their biggest win by making a bygone era—when music and ideas changed culture and mattered more than money—"come alive" again.
(Apologies for the bad Frampton pun.)
"Cowtown Ballroom … Sweet Jesus" has a two-week engagement at the Tivoli Cinemas in Westport Manor Square starting Friday, May 22.