Right from the opening, where Eric Packer, the 28-year-old billionaire head of Packer Capital, gets into his white stretch limousine to go across New York City for a haircut, you know what kind of movie Cosmopolis is going to be.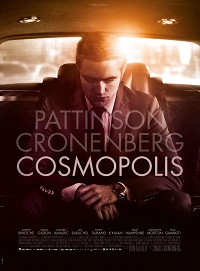 "Why are they called airports?" he says.  And: "Why am I seeing things that haven't happened yet?"
These words come from the mouth of Robert Pattinson, an actor who is admirably stretching his chops to be in a David Cronenberg movie. And Cosmopolis isn't the old-school body-horror Cronenberg type of film like Videodrome or The Fly. Nor is it the new school of "respectable" Cronenberg like A History of Violence or Eastern Promises.
No, Cosmopolis falls squarely in the "experimental unadaptable mindfuck" category of Crash (based on the J.G. Ballard book, not that abysmal Best Picture winner) and Naked Lunch (based on William S. Burroughs' groundbreaking free-form novel).
"No need to go across town. The situation isn't stable." – Torval (Kevin Durand), Eric Packer's head of security
You see, Cosmopolis is adapted from the Don Delilo novel of the same name, of which John Updike said in the New Yorker: "The trouble with a tale where anything can happen is that somehow nothing happens. How much should we care about the threatened assassination of a hero as unsympathetic and bizarre as Eric Packer?"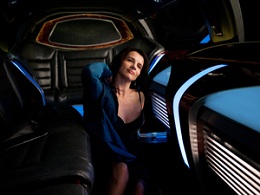 That's certainly a concern of Cronenberg's sterile movie, where everybody talks like they're reciting verse while half alseep. Eric Packer spends most of the film riding around in his space-age limo: black leather, slick metallic railings, blue lighting, hi-tech video screens, zero noise from outside—tucked safely away as a member of the 1%, while the 99% throw dead rats at his limo and riot in the streets outside. It matters about as much to him as a hangnail.
"I like your mother," he says to his new wife Elise (Sarah Gadon). "You have your mother's breasts."
But who cares if you don't like or identify with your main character when he says crazy shit like that and then brushes it away as if he just read you the weather? There is something seductive about Cosmopolis as the billionaire sits in his limo, losing money by the second, yet remains as calm as ever while acquaintances (including the ravishing Juliette Binoche) come and go, having sex with him or delivering bad news after bad news.
"You acquire information and turn it into something stupendous and awful" – Elise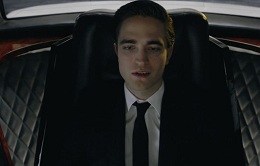 Eric Packer is a caricature of enormous power and wealth — a man who is alienated by his success to the point where he has forgotten what it means to be alive. In other words, he's Mitt Romney. Zing! In surroundings of his own making that stretch beyond the limo, he even has two personal elevators that move at different speeds and play specific music for his moods. Now that's too much.
Meanwhile, a guy is stabbed in the eye on talk show and it fazes nobody.
In Cosmopolis, paranoia and class upheaval are depicted in extremes. The film is full of tons of philosophical musings about sex, drive, and the nature of being,  but the coolly stylized deadpan delivery comes off as indifferent much of the time, and not just from Pattinson.
"Time is a corporate asset now," says Eric's chief advisor Vija Kinsky (Samantha Morton). Think about that for awhile, if you have time to before the next pretentious bit is thrown your way.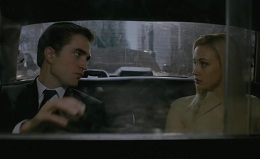 She also says: "The urge to destroy is a creative urge." Anarchists say this, according to Vija — in what appears to be everyday conversation for she and Packer. It's a quote from Delilo's book, but the Russian "father of anarchy," Mikhail Bakunin, said this too. Vija goes on: The urge to destroy is also a hallmark of capitalist thought: Destroy the past to make the future. Chew on that one!
You see, Cosmopolis throws heady ideas at you faster than Michael Bay can explode a building, but the rate at which these ideas stick is inconsistent. It does, however, develop a rhythm. About an hour into Cosmopolis, the pace and metered language has forced you to adjust, just as the performances get more straightforward and emotive on a regular scale.
In the visual department, Cronenberg is obviously no slouch. Even though the amount of unique locations numbers somewhere under 10, there are as many different visually interesting angles of the limo's interior as possible and they are shown in long, static unbroken takes. Hypnotic to some, boring maybe to another.
Here's something else Cosmopolis won't get credit for with its one-note detractors: This is a darkly funny film.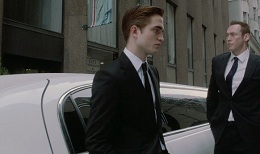 "They've made certain assessments … They're projecting a course of action on the individual …" – Torval, who speaks in hilarious corporate-speak most of the time, and is punished the one time he breaks that facade.
Cosmopolis is often very twisted and funny, but not nearly as subversive as it wants to be because of its distant, sterile demeanor. When Eric asks for a woman to stun him with a high-powered stun gun—and a moment of genuine tension and excitement builds—Cronenberg cuts away. Sure that's part of the director upending convention, but when the whole movie is challenging storytelling maxims, you'd be surprised how often you wish for it to get kind of familiar for awhile.
"Just two hours ago there were major global protests. Now—what? Forgotten." – Eric Packer
True. So damn true. Why does the passion dissipate in people so easily? Is our society that beaten down that we just assume what we do doesn't matter in the long run anyway? These are just some of the thoughts that will be brought up when viewing Cosmopolis. Moments like this are why it is ultimately a film that deserves to be experienced by every serious film fan.
But on a strict narrative level, it's a hard movie to recommend. The cumulative effect of each individual encounter begins to stack up, but there's little traditional mounting action, outside of the "assessments" made by his security team. The film—essentially—goes nowhere, like the limo.
After a long day — towards the end of the film — Eric Packer needs to stop for a "philosophical pause," he says. The trouble is, he's been philosophizing all day. Cosmopolis is uneven as can be, but there's enough interesting ideas and top-rate artistry in it to stuff  a turkey.