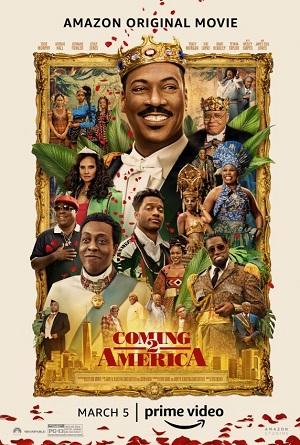 Streaming now on Amazon Prime

[Rating: Swiss Fist]
The track record for comedy sequels is so bad that at this point one has to at least give a production a little credit for trying. It's a fool's errand, to be sure, and for every rare success there's at least a dozen failures: just ask the Ghostbusters or Hangover people. When they work, comedy sequels tend to unmoor themselves from the originals to strike at new material, expanding on established characters within a new conceit or setting. When they fail, it's usually because the follow-up installment is content to just replay the hits, raiding the original of material and established goodwill. Coming 2 America falls into the latter category, and while its heart is in the right place, and some fresh characters and ideas are introduced, the sum total is little more than a PG-13 rehash of older, better material.
Just over thirty years have passed since the events of the first movie, and with King Joffe Joffar (James Earl Jones) on his deathbed, Prince Akeem (Eddie Murphy) is poised to take the throne of Zamunda. And while the prince's marriage to New York native Lisa McDowell (Shari Headley) three decades before bucked royal tradition, few other reforms seem to have taken hold. The proud father of three daughters, Akeem is facing pressure from his father as well as a neighboring warlord, General Izzi (Wesley Snipes), to establish a male heir to the throne. Although he'd like his eldest daughter, Princess Meeka (Kiki Layne), to rule after his passing, tradition and the law insist that a man take over.
When Akeem learns that he has an illegitimate son in Queens, he flies back to New York with his trusty aide, Semmi (Arsenio Hall), to bring the boy back so he can one day rule Zamunda. After a quick meet-and-greet, Akeem accompanies his son, Lavelle (Jermaine Fowler), and the young man's mother, Mary (Leslie Jones), back to the prosperous African kingdom, where they learn the ins and outs of palace life. Meanwhile, Lisa must contend with a new family she wasn't expecting, General Izzi angles to get his daughter hitched to Lavelle, and Meeka must come to peace with the ascension of a brother she never knew she had.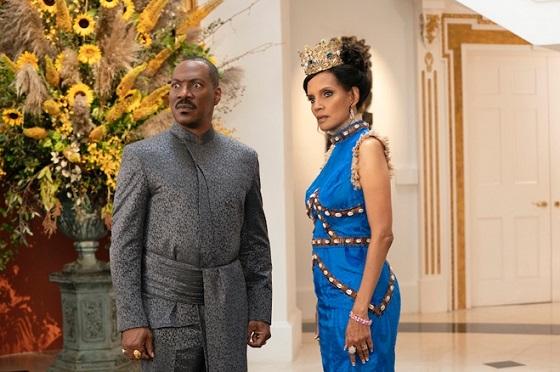 It's a lot to stuff into a 110-minute movie, and while Coming 2 America escapes the trap of simply rehashing the plot beats of the 1988 original, nothing about the film builds or expands on what made that one so funny and engaging. Lavelle's budding romance with his royal barber, Mirembe (Nomzamo Mbatha), taps into the thematic undercurrent of the original as far as staying true to one's heart in the face of tradition, yet it often plays second-fiddle to the subplots surrounding Gen. Izzi or the princely test trials. What's more, it has to compete with the rapid-fire call-backs to the original, which work to varying degrees of success, yet again, keep Coming 2 America from making its own hay.
As fun as it is to see the old coots at the MY-T-Sharp barber shop prattle on about the gentrification of Queens, or to watch Rev. Brown give sexually charged sermons (Murphy and Hall slip easily into their prosthetic alter-egos), some of the best bits of the film revolve around the new characters, like Meeka, Mary, and Lavelle's uncle, Reem (Tracy Morgan). Which is to say that in trying to be all things at once, Coming 2 America has sold itself a bit short. If this was just the story of Meeka, or Lavelle, or even Mary, there might have been room for the crowd-pleasing cameos and meta humor about sequels, but there's just not enough runway for it, here.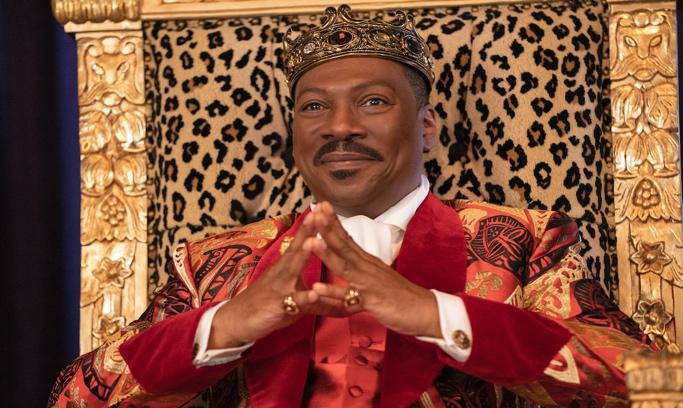 Even so, there's an abundance of chuckles throughout, and the humor that played well in 1988 finds a comfy home in the sequel. There's plenty of humor mined from Lavelle, Mary, and Reem's Zamunda culture shock, and once the script allows Lisa to do more than just frown and cross her arms, she has a few nice moments of her own. Snipes is also a riot as the Idi Amin-esque warlord with two kids he's eager to marry off, and an Akeem-sized axe to grind that calls back to the original film. The picture is also brimming with more cameos, Easter Eggs, and special appearances than one could hope to catch in a single viewing, and all exist to bolster rather than weigh down the effort, which is nice.
So it's not all bad, and in parts, even kind of funny. Murphy and Hall are acting less than they are doing impressions of characters that have made their way into the pop culture bedrock, and do better work the deeper they are into make-up. The standouts of Coming 2 America are the fresh faces (Fowler, Jones, and Morgan), who successfully put a 21st century spin on classic material. Somewhat neutered by its PG-13 rating, yet just familiar enough to elicit the good will of long-time fans, this follow-up justifies its existence even if it never quite shakes off the curse of the comedy sequel. It might not be a movie fit for a king, but it might just satisfy a prince.