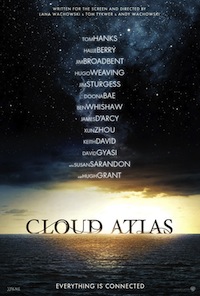 Cloud Atlas marks the Wachowskis' return to the directors chair after a four-year hiatus. For some, Terrence Malick and Stanley Kubrick both come to mind, these four years would hardly mark a break, but for brother Andy and now sister Lana, much has happened while they've been away.
First the Wachowski brothers are no more. Larry has become Lana, and from the interviews I've read is finally happy and resolved in her new form. Lana's transformation does not seem to have changed what fundamentally drives the Wachowskis' films, though the mutability of gender does seem to play a more prevalent role in Cloud Atlas than in their previous motion pictures.
The second aspect of the Wachowskis' hiatus that makes those four years seem so long is that their last film was the 2008 stinker Speed Racer. This eye-popping film harkened back to days of the early film surrealists with its crazy transitions, use of integrated multichannel and multilayered frames, insane color schemes, and relentless action. For all its pizzazz, the film lacked substance, and though Speed Racer has its defenders, it was largely viewed as a failure.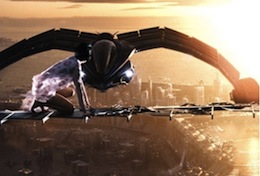 Before Speed Racer, the Wachowskis directed the subpar The Matrix Reloaded and The Matrix Revolutions, both released in 2003.
But what about V for Vendetta, you say? Written not directed. It was the Wachowskis' True Romance or Pretty in Pink. Even if we included V for Vendetta it is still a relatively uninteresting take on Marxist and anarchist social theory, a boiled down Bakunin intended to rile up twelve-year-old suburban boys.
It has been 13 years since the Wachowskis have truly wowed us, and from the looks of things they will never get back to the cohesiveness of vision that gave us The Matrix.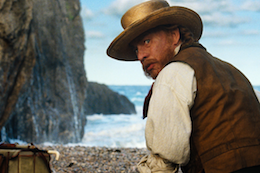 Based on the novel by David Mitchell, Cloud Atlas spans six intertwined stories and over 400 years. I'll try to keep the plot summary brief, but an understanding of each story helps keep the plot lines clear.
In 1890, a notary involved in the slave trade, Adam Ewing (Jim Sturgess), befriends a young island native, Autua (David Gyasi), who stows away aboard Ewing's sailing vessel.
The second story takes place in the 1930s, a young musician, Robert Frobisher (Ben Whishaw), begins working for an aging composer, Vyvyan Ayrs (Jim Broadbent), while maintaining a letter correspondence with his lover, Rufus Sixsmith (James D'Arcy). It is Frobisher who composes the Cloud Atlas Sextet, a sprawling and ambitious composition, which features six intertwined solos.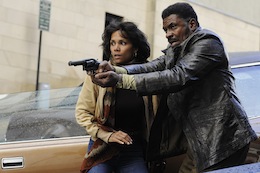 From the 1930s, we move to the 1970s. Here the story focuses on journalist/activist Luisa Rey (Halle Berry) as she investigates the shady dealings of a nuclear power plant in California.
The contemporary story takes place in 2012 and follows a pulp publisher, Timothy Cavendish (also played by Jim Broadbent), whose client's associations force him into hiding.
From 2012 we jump to the near future, some 100 years from now. Here fabricants are produced for entertainment and to serve the consumers. Sonmi-451 (Doona Bae), a service fabricant, escapes from her bonds with the help of a political dissident.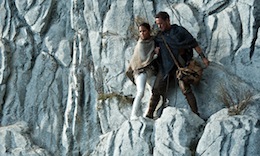 The final story takes place in a distant post-apocalyptic future, where Sonmi is worshipped as a messiah, and Zachry (Tom Hanks), a primitive tribesman, must guide Meronym, a prescient from a more advance culture, to a mountain top so a signal can be sent to prescient human colonists on a distant planet.
The novel comments on how stories themselves affect the generations that follow, since a character in each subsequent story reads letters, a diary, a novel, or the spoken tracts of a character from the story prior to it. Though this is mentioned in the film version of Cloud Atlas, for the most part it is lost.
Instead the idea of reincarnation is the main focus. The characters in each story are reincarnated forms of the characters in the stories prior. This sounds confusing, but the themes of oppression, ruthless ambition, kindness and the possibilities, which arise from the human spirit, link the stories as one. It is no coincidence that Berry's character in the final story is named Meronym, which by definition is a part of something that refers to the whole.
Characters from one story finish the thoughts of the characters in another. We jump with wild abandon from the distant future to the not so distant past.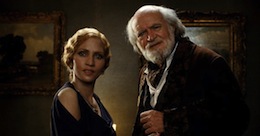 My biggest gripe was that in trying to illustrate the universality of human struggles across time they forgot to develop their characters within each moment. Only a handful of characters seem barely three dimensional, and without fleshy characters the film becomes a flat and plodding exploration of religious and social theory.
The Wachowskis, along with their third co-director Tom Tykwer, answer all of the big philosophical questions they've posed in their film, because all the characters become flat caricatures of real multifaceted humans. Yes, yes, I get it, love is the only thing that can save us.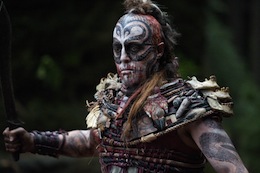 And we might come back as the opposite sex, or even a different race.
Hugh Grant plays the opportunistic business person bent on gain despite human cost in each story. Tom Hanks is the weaker sidekick to whatever stronger characters are around. Sometimes he gives into his weakness, and in some stories he shows tremendous courage, but it is dictated by the needs of the characters surrounding him and the plot of the story being told.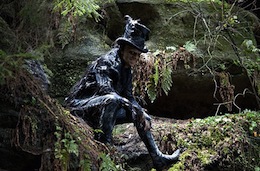 Hugo Weaving is the saddest casualty of this flattening of characters across time. He plays a thoroughly uninteresting evil character in each of the stories. In the final story Weaving plays Old Georgie, a satanic Great Gazoo who torments Hanks' Fred Flinstone-ish Zachry. Each of Weaving's roles is devoid of any complexity at all. He may as well have been cast as a time bomb or death ray.
The challenge of casting actors to play four to six different characters in different time periods is that it has the feel of the Klumps through the ages. The makeup in Cloud Atlas makes and breaks it. It will almost assuredly win the Academy Award for Best Makeup for turning Hugo Weaving into one of the weirdest looking women ever, and transforming Halle Berry into an old Asian man.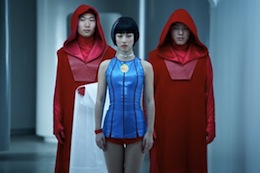 Cloud Atlas is a tough call and will probably split audiences, because there is as much to mock as there is to praise. For me it was an overly constructed sprawl of a film that lacked affect because of its flat characters and its fixation with dumbed-down philosophy. It will be a flash in the pan at best.
But don't take my word for it. Check out Eric's rave review or the Scene Stealers video review of Cloud Atlas in which our contributors weigh in and offer a spectrum of takes on this massive film.