The first thing I will promise from this review is that there will be no bad football puns—no "Clooney fumbles at the goal line," no "quarterback runs wrong play from pigskin playbook," no "director scores a touchdown but misses the extra point." I just won't do it, you hear? I won't stoop to that level, you hear? And just because I've already printed those words doesn't mean I've already…nevermind!
If I had to pick one person from Hollywood to helm and star in a loving tribute to the old school screwball comedies of the 1930s, it would be George Clooney. He's already shown he can act exaggerated repartee to perfection in the Coens' slapstick and slapdash Depression-era Homer interpretation "O Brother Where Art Thou?" Able to spit out a wordy froth of Olde English and Southern drawl in machine-gun fashion, Clooney earned himself a Golden Globe and helped make that film a cult classic.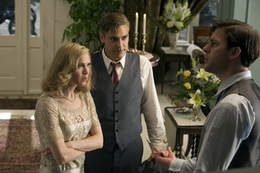 "Leatherheads" doesn't contain all the traits of a screwball comedy (such as class issues, topsy-turvy gender roles, and mistaken identity), but there are enough romantic triangles, tight spots, and fast-talking to know what director Clooney was going for. No matter how accurate the set design and costumes are or how many times the characters in "Leatherheads" use phrases like "cook your goose," the movie never builds to that ridiculous fever pitch that it should.
At least as a sports film, it is anachronistic enough to not grow tired. There's no underdog team fighting to reach the big game in a slow motion climax—just a story about a man who doesn't want to grow up. Loosely based on the story of NFL running back John McNally, "Leatherheads" finds pro football struggling to survive while its college counterparts play to sold-out crowds.
An aging team captain named Dodge Connolly (Clooney) recruits a war hero and university star named Carter Rutherford (John Krasinski) to play for his Duluth Bulldogs and things start to turn around for the whole league. Meanwhile, big-city reporter Lexie Littleton (Renée Zellweger) is assigned to uncover the truth about Rutherford's war record, and ends up the object of both men's desire.
The story wants to be madcap and freewheeling, but it doesn't quite take flight. The overgrown child who must save his team when faced with the prospect of getting a real job is a good set-up, but too many madcap situations are resolved too easily. The movie just rolls along with its carefree, lighthearted attitude, but without the zip that it truly needs.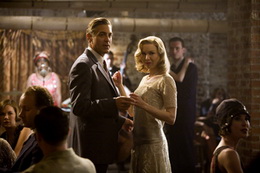 One problem is that the wordplay—which is delivered by all involved as charmingly as you could ask for—is just not that clever. This is too bad, since the screenplay by Duncan Brantley and Rick Reilly has been bouncing around Hollywood for over 15 years. It is almost as if the director wanted to try his hand at the genre, so he grabbed the only movie out there that fit.
Another problem is that a lot of the gags fall flat, and some end with an awkward fade-out into the next scene. When Dodge and Lexie are being chased by police, they happen upon a suicide jumper. Trapped on a ledge, the pair decide that the net below that's meant for him is their only way out. Since they are dressed as cops themselves (long story) and the desperate man's family and more police oblivious to the chase are below, the scene is rife with comic possibilities. Unfortunately, it's over all too soon, and one cop mumbles something about the jumpers being police as the scene fizzles out.
It may be more appropriate to compare the feel of "Leatherheads" to "The Sting," a minor trifle starring Paul Newman and Robert Redford that won Best Picture in 1974. Like "The Sting," it is too long and it never builds up to any heated frenzy, it just kind of exists, out of its time, to remind us that these kinds of films sprung up naturally from the Vaudeville aesthetic and the effects of the Great Depression.
"Leatherheads," if anything, is an admirable attempt at recreating this specific brand of agile, breezy comedy. At least "The Sting" had an effective con artist plot to hang itself on, while Clooney's effort seems like just that—an effort.