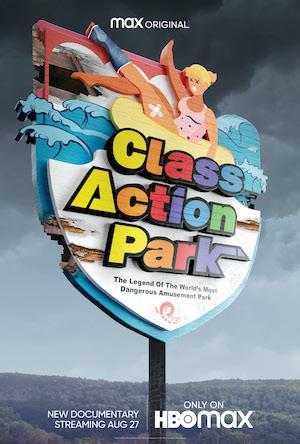 [Rating: Minor Rock Fist Up]

Screened as part of the Fantasia International Film Festival, now available on HBO Max.

From director/producers Chris Charles Scott and Seth Porges, the new documentary Class Action Park looks at a New Jersey amusement and water park whose legacy has reached near-mythical status. Talking with those who were there, and utilizing contemporary video footage from the park's heyday, this film portrays Action Park as a cross between a teenage bacchanal and a death trap.
"Class Action Park is the first-ever feature-length documentary to explore the legend, legacy, and truth behind a place that long ago entered the realm of myth. Shirking the trappings of nostalgia, the film uses investigative journalism, newly unearthed and never-before-seen documents and recordings, original animations, and interviews with the people who lived it to reveal the shocking true story for the first time.
Welcome to Action Park: A place the likes of which, we will almost certainly never see again."
Anyone who's spent time perusing the odd corners of the internet devoted to long-gone places has likely heard of New Jersey's Action Park, and the attractions seemingly designed by someone with no regard for physics or personal safety. The tales of injury and death come across as exaggerations, inflated by time and repeated tellings, but in Scott and Porges' Class Action Park, the first-person experiences of attendees and employees, along with copious news coverage from the time, it becomes only too apparent that it was actually far, far worse than you ever could've imagined.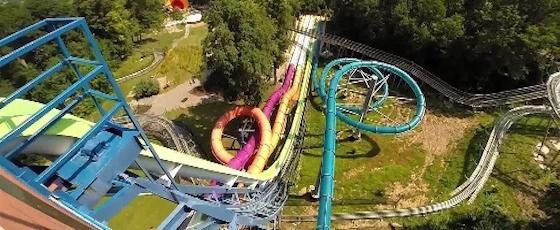 Comedians like Alison Becker and Chris Gethard – the latter of which is the film's main voice of childhood experience – give the documentary its overarching tone of mystified hilarity. Every description of a ride or attraction has a sense of "what the fuck were they thinking?" And that's only from the perspective of those who went!
The tales told by park employees, who range from those who were teenage ticket-takers all the way up to managers of operations, demonstrate that even they were a little baffled by founder Eugene Mulvihill, best described on Class Action Park's website as "A genius madman who was willing to break any rule to bring his vision to life, including the creation of a fake insurance company in the Cayman Islands to circumvent insurance regulations.
For the majority of its runtime, Class Action Park is basically a capsule history of the park's inception, along with a biography of the principal players, before getting into the meat of the story, which is a treasure trove of stories regarding Action Park's various rides and attractions, with special emphasis on the poor planning and resulting injuries. It's the best set of bar stories you're ever likely to hear, and the judicious use of VHS footage from attendees and vintage promo clips makes it feel as if you're trolling through your own hazy memories.
There's also some animated segments, which emphasize the truly dangerous aspects of some of the rides in a wider context. Intercutting these pieces with actual footage really demonstrates just how bonkers Action Park was, in terms of how slides and rides were designed, although they ended up being far more literal in terms of impact than likely intended.
In the film's final third, Class Action Park takes a hard swerve by speaking with the family of George Larsson, who died as a result of being flung from the Alpine Slide, a half-mile long chute which, according to Wikipedia, was where "Riders sat on small sleds that had only a brake/accelerator control stick, and rode down the slide in long chutes built into the slope."
After Larsson was flung from the ride, he suffered massive injuries which are never precisely described, but the references to massive amounts of blood are almost more horrifying in their vagueness. As his mother, Esther, talks of being so broken by the experience of losing her child that she tried to step in front of a truck, the fun, "Oh, what a bunch of crazy shit?" tone of Class Action Park comes to a crashing halt. We're no longer watching members of Alice in Chains look a bit shell-shocked after experiencing a water slide on MTV's Headbangers Ball. This is death.
The litany of people who ended up dying as a result of injuries sustained at Action Park goes on for a while, and though Scott and Porges do attempt to swing back to fun times for Class Action Park's closing minutes, it never really gets back on track. It's necessary and vital that their film acknowledge the theme park's real-life toll, but saving it for the end feels more like a grudging acceptance of a duty, as opposed to something which they felt they could easily incorporate into a grander narrative.