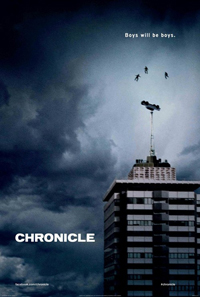 In recent years the found footage approach to film making has become its own genre, thanks in no small part to the cheap nature of shooting a film from a first-person perspective and the commercial success of the Paranormal Activity series or bigger budget offerings such as Cloverfield.
Chronicle is a first-person, found-footage take on the super hero genre, but it's also a remarkably affecting teenage drama, as it unpacks familiar issues such as alienation, loneliness and the awkwardness that is inherent in almost every adolescence. The movie follows three teens — a popular jock, a reserved loaner and a troubled outcast — as they grapple with growing up and, oh yeah, rapidly expanding super powers.
The majority of the story is told from the perspective of the outcast, Andrew. Played by Dane DeHaan, Andrew starts using a video camera as a kind of buffer between himself and the reality of his alcoholic father, terminally ill mother and seemingly permanent outsider status. But after he, his loner cousin Matt (Alex Russell) and popular jock Steve (Michael B. Jordan) are exposed to a mysterious object in the ground, things start to change.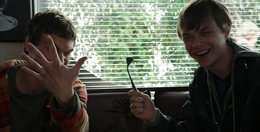 Writer Max Landis does an excellent job of showcasing the joy that would come with new-found powers and abilities. Some of the movie's best scenes come from when the boys start to experiment with their gifts — and grapple with the repercussions of their actions. Like many great super hero stories, power and responsibility are cornerstones here and the eventual villain is a tragic one.
DeHaan's vulnerability is disarming at times and falls often on the right side of the line between wounded and whiny. Russell's character could have used a little more definition, especially given his lame excuse for characterization, but the movie's 90 minute runtime offers little room for finer details.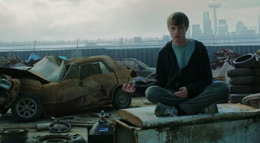 Chronicle splits the difference between escapist fun, teen drama and super hero spectacle. And your enjoyment of the movie is directly proportional to how easily you can suspend your disbelief in the first-person perspective.
Director Josh Trank comes up with some inventive ways to keep the found footage device in place, particularly during the final act's explosive action finale, but it's still the movie's biggest obstacle.
If you can buy the premise, then your reward is an action/sci-fi movie that is surprisingly affecting and effective. Chronicle is funny, exhilarating and at times remarkable — a welcome surprise indeed.