In an era where teenagers are increasingly more familiar with psychoactive drugs as a socially-accepted way to deal with the pressures of high school, it is about time that a movie came along and shed an appropriately dark light on the touchy subject.
"Charlie Bartlett" is not that movie.
It wants to say something, but it so often revels in forced-quirky lighthearted moments that it's like a John Hughes movie trying to get cozy in Wes Anderson's hipster sweater, but without any of the depth or memorable dialogue. In other words, "Charlie Bartlett" tries way too hard.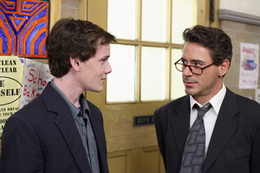 Actually, quite a few people try really hard to make the film entertaining. Hope Davis does some tricky work navigating for laughs and makes the most of her short time onscreen as the flighty, spoiled-rich mother of the title character. And Robert Downey, Jr. has a couple of nice moments as a father who's put in the uncomfortable position of also being the principal at his daughter's high school.
Anton Yelchin plays Charlie Bartlett, who has been kicked out of every private school he's ever been in, and finds himself battered and bruised after his first day in the public school system. As a series of unrelated short films, certain scenes from "Charlie Bartlett" work just fine. But string them all together, and you've got one big mess of a film. Yelchin's delivery is sometimes very charming, but the script falls into one hole after another.
After his pummeling, for example, Bartlett simply approaches the school bully and his sniveling sidekick with a bit of Psych 101 b.s. about why they feel the need to beat people up. The next thing you know, they're best pals. You hear that, kids? All you need to do is try to understand someone else's problems for a couple minutes, and everything will be okay, because people really do change—sometimes quicker than overnight!
Eventually, Bartlett becomes the de facto psychiatrist for all the school's teenagers, setting up the men's bathroom as his couch/confessional, and bringing the kids all the medication he's conned out of his family's various shrinks-on-call. After a quick montage looking through some library books, he's on his way, dispensing such useful advice like "It's kind of a turn-off when a girl's not comfortable with herself"—despite the fact that the entire film loudly proclaims over and over that nobody is ever comfortable with themselves.
This is the kind of film where every jarring point in the story is explained away by a big exclamation point in a character's past, even though we never get a real sense of that person—just an uncompleted sketch. We've seen Downey drink throughout the film, and it felt like shorthand then, but when his daughter mentions an earlier incident with a gun—poof!—her dad is playing around with a gun and a liquor bottle in a wholly un-convincing scene that is supposed to serve as the climax of the movie.
Charlie goes from outcast to psychologist to hero, and when the students ramp up their protesting of school security cameras, the movie devolves into a bad "Pump Up the Volume" thing, where the kids hang on Charlie's every word. When a depressed teen is suddenly cured and turns into a bright, happy theater student, the bully is acting in a school play, and someone is singing the Cat Stevens song from "Harold and Maude" for the second time, you know you are watching a cutesy fairy tale.
In the end, the big message of "Charlie Bartlett" was said better and more succinctly in an R.E.M. song—"Everybody Hurts."