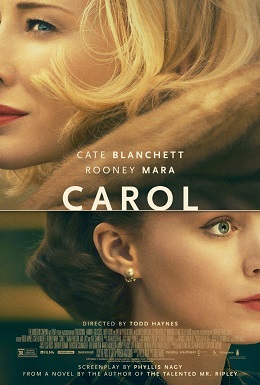 [Rock Fist Way Up]
An expertly crafted drama with impeccable performances, a tight script, stunning set and costume designs, and a brisk yet thoughtful pace, director Todd Haynes' newest film, Carol, soars. Although named for her character, Cate Blanchett shares the picture with co-lead Rooney Mara, who acts as the audience's guide through the intolerant streets of 1952 America. It is a sometimes frightening journey, for Carol tells the story of two lesbian women exploring the initial stages of a romantic relationship at a time when the mere admission of such feelings were grounds for social and professional ostracization. Yet Carol succeeds because it takes the time to explore the world that its characters live in, and to root their story in an entirely relatable way that respects their emotional journey by taking the time to develop it.
In the film, Therese (Mara) works in a Manhattan department store, and lives a life that seems to be dripping off into the ether like a leaky faucet. Although she is in a relationship, and is pursued by other men, she seems ill at ease with the attention, and uncomfortable with the intimacy that follows from it. Everything changes for her when she has a chance encounter with a customer while at work; Carol Aird (Blanchett) is an elegant, sophisticated, and confident woman who strikes up a conversation with Therese about a potential gift, and then happens to leave her gloves behind afterwards. Although it is possible that the gloves were left by mistake, Therese's lingering glance at Carol, and the flustered blushing the former woman tries in vain to hide, suggests otherwise.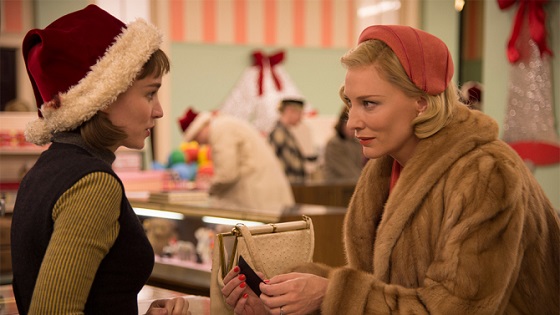 When Carol goes out of her way to contact Therese to ask her out to lunch as a thank you for the gloves and the gift recommendation, Therese (and the audience) are given cause to suspect that there might be more than just cordial appreciation at work. Yet this is 1952, and women, even the older, more self-assured Carol, can't simply act on such feelings. As the film progresses into its second act, and Carol and Therese share meals and quiet evenings together, their conversations play out like mini-waltzes where each woman dances around the borders of physical intimacy, only to pull back when their orbits threaten to collide.
These early scenes between the two women are when Carol is at its best, for Mara and Blanchett must (and very successfully do) convey fleeting moments of excitement, apprehension, and fear whilst carrying on with the surface work of ordinary, platonic encounters. At the same time, Haynes and screenwriter Phyllis Nagy do excellent work drawing out the history of these characters through the ancillary relationships each maintains. For Therese, it is an uneasy pseudo-engagement with a man she doesn't seem all that connected to and a group of male friends that care for her, yet are kept at arm's length. It's clear that Therese's sexual orientation is something she has been struggling with for some time, and serves as an impediment to forming a totally trusting bond with anyone in her life (to do so could potentially threaten everything for her).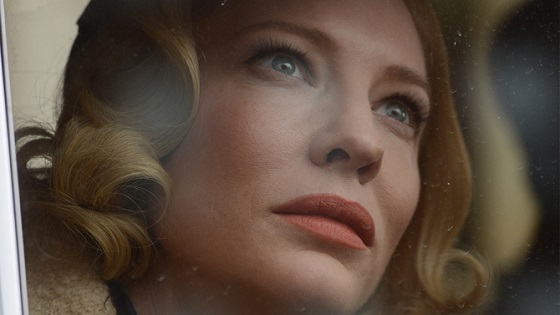 The older, more world-wise Carol suffers even more because of her not-so closeted lifestyle, for she's in the midst of a divorce when the film catches up with her: one complicated by her husband's awareness of his wife's proclivities. Harge Aird (Kyle Chandler) still cares for Carol in his own desperate, possessive way, and uses his wife's love of their young daughter to try and force a reconciliation. Yet as Therese and Carol spend more time together, and random finger-strokes across forearms evolve into bracing hands upon resting shoulders, the electricity between the two women snowballs. What follows is a tender exploration of forbidden intimacy that finds a way to sprout despite the odds stacked against these two women.
Every detail in Carol feels meticulously explored, from the nuances of each conversation, to the silent, sideways glances, right down to the clothing and exterior set-ups. As far as world-building, Carol is indeed a transportive experience, which is important in a movie that winds back the clock to tell a story of societal intolerance that seems nothing less than insane to modern audiences. The cars, clothing, constant cigarette smoking: everything speaks to a world where being gay was as dubious a distinction as being from another planet. This attention to detail also serves to play up the particulars of each character, what with Carol's impeccable fashion taste juxtaposed against the more practical, frumpy look of Therese.
These are two women from different worlds, at different stages of their lives, who find common ground via a relationship their society is about 40+ years away from understanding and accepting. Their journey isn't an easy one, and is beset by challenges that range from personal to legal, yet everything that follows does so from a realistic place based on the breadcrumbs the script leaves behind as it develops its characters. At just under two hours, Carol is a breeze to get through, and a tender, thoughtful exploration of a love story that is heartbreaking and uplifting all at once.