This review appeared in slightly different form on the Scene-Stealers Lawrence.com blog, and the video review from KCTV5′s It's Your Morning is below.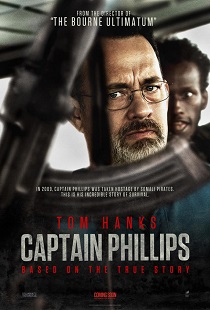 Paul Greengrass' highest-profile films are probably The Bourne Supremacy and The Bourne Ultimatum, but the director cut his teeth on Bloody Sunday, a movie that recounts a tragic 1972 massacre of Irish protesters by British troops.
In that film, his handheld camera style and unadorned soundtrack help to achieve an approximation of reality that is gripping.
Greengrass also used this strategy to great effect in the neo-realistic 9/11 drama United 93, for which he received an Oscar nomination in 2007. Captain Phillips, starring Tom Hanks as an American everyman (who else?) captaining a cargo ship across the Somali coastline, has a similar feel to these movies, even if it ups the Hollywood quotient with a typically melodramatic score and plays a little loose with the facts of the real hijacking, which took place in 2009.
The greatest strength of Captain Phillips is that it isn't a one-sided portrait. Barkhad Abdi plays Muse, a Somali pirate under the control of a warlord, and although he and his crew are undoubtedly the bad guys, the screenplay by Billy Ray takes great pains to paint them three dimensionally and give us some background on the kind of desperation that would lead a man to seize ships for a living.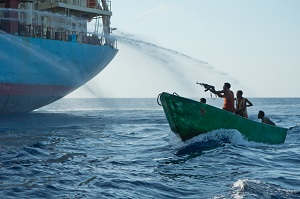 Ultimately, though, the film is too long and doesn't hold up the tension or danger long enough. Hanks lends his Phillips some emotional heft, but the typical heroics of the Hollywood thriller seem out of place in this style of presentation.
Once the Navy is called in, there's little suspense around who will prevail, considering American military forces are attacking from the air and sea to try to subdue four young men with machine guns in a lifeboat.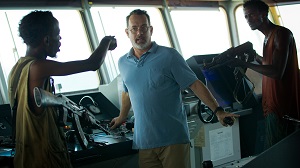 The Danish movie A Hijacking, released earlier this year and partially based on real events, has a far more intriguing story. Even as it tightens the screws more effectively during the ship's seizure (and through weeks of painful negotiations), it also shines a light on the practical side of business and the moral complexity of bargaining with hostages' lives in order to not sink the company financially.
The suspense of Captain Phillips is undercut by the expectations that the movie has laid out in its trailer as well. Audiences know what won't happen plot-wise, and it undermines the drama, especially in the protracted third act. A Hijacking proves there is enough room for a multi-layered and tense character drama in this material, while Captain Phillips prefers to play it safe.