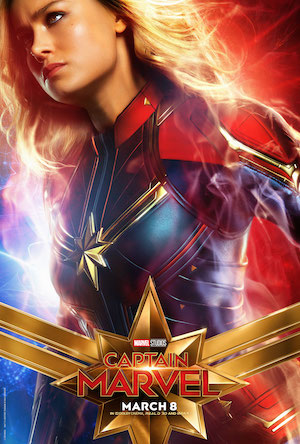 [Rating: Solid Rock Fist Up]

After 10 years and 20-plus movies, Marvel Studios is finally rolling out its first movie with a female hero in the lead role. Captain Marvel may not wow audiences the way that gal over at DC did a couple of years ago, but she's a solid enough character in a fun, high-energy, low-stakes sci-fi flick that serves as a soft-serve introduction before she gets dragged into the fight with Thanos. But, ladies first.
When this film opens, we meet Vers (Brie Larson) a member of the Kree Space Force, haunted by memories of a life she doesn't remember. When she and her her team, led by Jude Law, learns an army of shape-shifting Skrulls is searching for a device that will allow them to trigger an intergalactic war, Vers finds herself on Earth — in the mid 90s no less — where she encounters SHIELD, fights some aliens and begins to learn about her true past as a daring pilot named Carol Danvers who was allegedly killed in a test flight accident.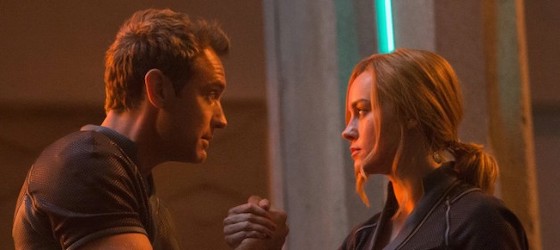 Familiar faces return to aid the newest future Avenger, looking 20 years younger thanks to some pretty sweet de-aging effects. Samuel L. Jackson is back as Nick Fury and it's fun to see him a little less jaded and a little more naive about the larger looming threats outside of SHIELD's Earthbound protection. Clark Gregg reprises his role as Agent Phil Coulson for the first time on the big screen since 2012's The Avengers.
Stealing the show however, is Ben Mendelsohn as Tallos, the leader of the Skrulls. The MCU hasn't really seen a villain like this dude. He's funny without being jokey and has some incredible interactions with the other characters helping to set the Skrulls up as a scary threat even if it didn't feel like they were utilized as much as they could have been. Plenty of time down the road for all that fun, kids. And if you know where the storyline with the Skrulls goes, it could get crazy, assuming they're going that route.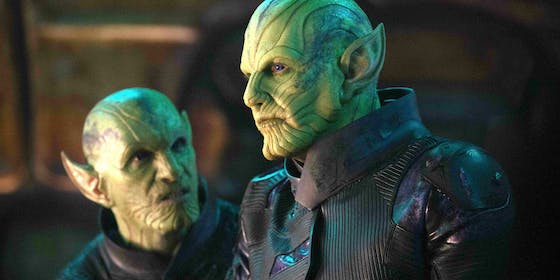 But the big question is how does Brie Larson handle the weighted pressure of carrying the first lady-led MCU flick? Larson has been under fire from fans who don't think she shows enough emotion in trailers and others who feel she expresses to many personal opinions on press tours. As it is, she holds her own, carrying herself with an air of cockiness and spouting lines with a smug sarcastic wit. She's no Robert Downey Jr., but really, who else is? Is she good enough for anyone with doubts to overcome those? Probably not, but a lot of people have probably already made up their mind about her and that's a shame. She's solid, and that's good enough for what they're trying to do here.
Marvel has typically been pretty spot on with the casting of their heroes, but Larson enters with doubts from fans as to whether or not she's the right actress for the job, despite carrying an Academy Award under her arm. But, hey, the character seems pretty fun. She flies and blasts photon energy from her fists and seems like a good fit for the MCU as it evolves into a new era.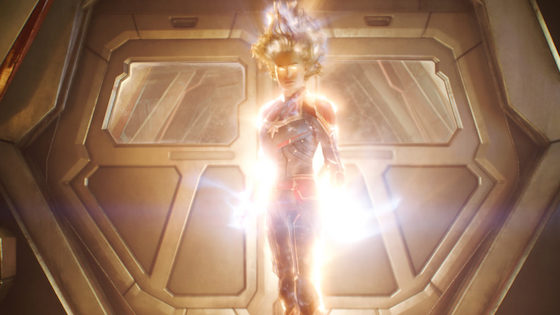 Setting the film in the 90s opens it up for a lot of fun pop-culture references to that era but also sets itself up for a lot of nit-picky fan grumblings about continuity issues retconning the MCU to fit the narrative going forward after Avengers: Endgame. Most of it works though, the soundtrack is fun, although not quite as memorable as the tunes in Guardians of the Galaxy.
The film crackles at the quick pace of a 90s action movies. In many ways this feels like it what a Marvel movie would have felt like had it been made in 1995. Co-directors Anna Boden and Ryan Fleck handle the material nicely, playing it a little too safely at times, but nevertheless managing to introduce a strong, female character that should have no problem carrying the torch going forward.
The real key to the success of Captain Marvel both at the box office and within the MCU is the audience's willingness to accept Brie Larson as Carol Danvers. But even if her first movie isn't a home run — and it really didn't need to be — it's an incredibly entertaining line drive double into the gap, which should set Marvel and the Avengers up for some big moments down the road.