Ultimate Fakebook Tour: Movie Review from the Road
The Cell (Jennifer Lopez, Vince Vaughn)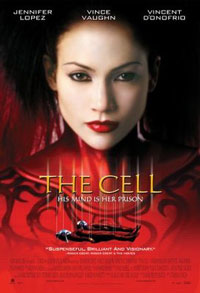 Still smarting from Hollow Man's hollow depths, (you can only do so much when you're out on the road) we dragged our sorry asses into a theater to see this crap. For the record, there wasn't much else available at the time, and we were in a crunch, so we settled for this.
Yes, it was visually exciting, but what do you expect from a music video director known for Marilyn Manson-type stuff? How do these inane scripts ever get this far? This movie should never have been made.
The actors were mere set decorations, and there are no moments of real tension. Nick was laughing out loud and that broke my concentration a couple times, but I just could not get in to this picture.
I vowed that the next movie I saw would be an independent film and cursed my empty wallet. If I could just get back those 2 hours.