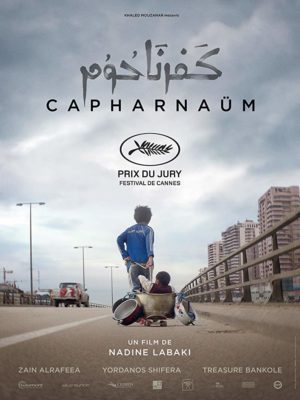 [Rating: Rock Fist Way Up]
When Nadine Labaki's heart-breaking story of poverty and anger premiered at Cannes this year, it received a 15-minute standing ovation and won the Jury Prize.
Capernaum (meaning 'chaos') deserves all the accolades it's earned (20 more wins and counting, including a nomination for an Oscar for Best Foreign Language Film).
Telling the story of Zain, a 12-year-old boy (he looks closer to 8) in jail for a violent crime, who decides to sue his parents for putting him into the world, Labaki weaves a tale that sheds light on the crises that create such a desperate kid, and what brought him to this point.
Zain (Syrian refugee Zain Al Rafeea) lives with his family in Beirut, where they do everything they can to get by. The parents are unable to get work because they do not have proper papers and identification, and Zain and his siblings spend their days selling things on the streets, or assisting their mother in smuggling drugs.
When their parents decide to marry off Zain's sister Sahar (Haita Izzam), Zain goes into action, orchestrating an exit plan for them both. But he's too late, so Zain boards the bus to leave his family behind and begins to look for work.

One scene on the bus is particularly indicative of Labaki's skills as a storyteller. Zain has grown up so fast – hustling and counseling and caring and shouldering responsibilities the average American 12-year-old couldn't fathom. But on the bus, his eyes widen as he sees a man in a red superhero costume. "Dear, I'm not him," Cockroach Man says. And this subtle, well-crafted moment reminds the viewer that this industrious, desperate person is truly, somehow, still a child. And it's an important reminder – because when you see someone doing adult things, it's easy to forget.
I was really struck by Labaki's hope and faith in the human spirit, even as she shows that hell exists on earth in a very real way. While this movie is devastating and bleak, it's not nihilistic. She provides unexpected relief in the form of miniscule moments of beauty – whether birthday parties or sunsets. She also presents a worldview that people are basically good, and start their lives with the best intentions – but an environment of hunger and need reduces people to their basest selves.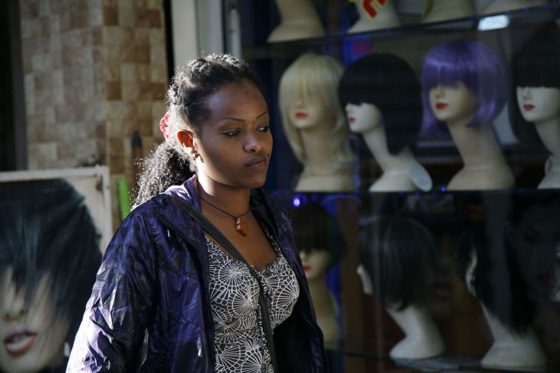 The only work Zain finds is actually age appropriate – babysitting Yonas (Boluwatife Treasure Bankole), the toddler of Ethopian refugee Rahil (Yordanos Shiferaw). Rahil is barely surviving – without papers, her options are sex work or whatever menial task someone will give her. She is still optimistic and not as burdened as Zain's parents – having only one child to care for, she has the compassion to care for Zain as well.
While looking for work and preparing to return to sex work out of desperation, Rahil calls her mother in Ethiopia and tearfully explains she will be unable to send money back that month. The message is subtle, but powerful – it's even worse than this somewhere else. For these refugees, this is the lesser hell.
But then Rahil doesn't come back. Zain and Yonas stay in the room, getting hungrier and hungrier. Zain is an industrious person, but he can't fight the boredom. As I watched I realized that the children I know would begin to tell stories in that situation – comforting the baby and themselves with fairy tales and finding some source of hope.
But Zain doesn't have those resources. The lack of education means no stories, the poverty means no media and the hollowed-out parents mean no oral tradition. The only story Zain knows is his own.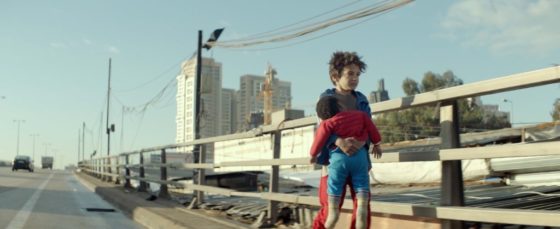 As the two get hungrier, Zain's desperation brings him to familiar avenues – and he does what he knows. And the story begins to come full circle, as we see him driven to the same frantic measures of his parents, including some he couldn't forgive them for.
Labaki builds her story so intentionally, and presents a prism of a movie, with so many of the issues represented. At the beginning it's easy to judge Zain's parents and think they are horrible people. But the reality is, they are desperate ones. With no resources – no assistance from the government, no avenue to become citizens so they can work, and no access to handouts, birth control, or relief – they are reduced, in their own words, to dogs.
In the courtroom, Zain's parents (Fadi Yousef and Kawsar Al Haddad) appear pathetic and deluded – how can they defend the positions they've put their children in? But what other choice is there when you live in a world where you truly have no choices? At least their children didn't die of starvation.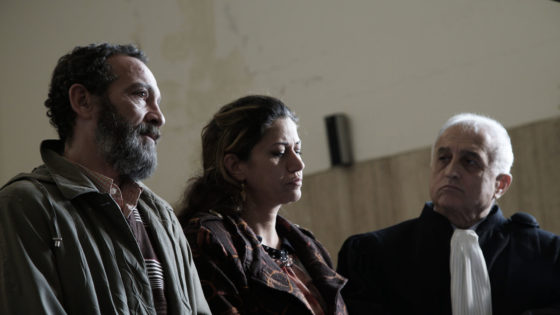 I particularly appreciate that Labaki cast her movie with refugees and people of similar backgrounds, giving them the chance to tell the story they've lived, another bit of agency refugees often don't have after the political machine and news cycle gets through with them.
And that's why movies like this one are so important. It's hard to understand the realities of the world if you don't see them. Labaki puts a narrative around a crisis, removing the moral associations from poverty and refugees and presenting them for what they are – the symptoms of much bigger, and often cyclical, problems. People wouldn't be driven to steal and smuggle drugs if they had the ability to get honest work (and the paperwork to do so). Women wouldn't die in childbirth or have far too many children to feed if they weren't married off at age 11 by parents who need to reduce mouths to feed.
Labaki doesn't offer a solution for all of these challenges, but she does provide one for Zain. And somehow, she closes this mesmerizing, heart-breaking tale of truth-telling with hope.