It is entirely appropriate to call writer/director Tamara Jenkins' latest feature "The Savages" a comedy because it's very funny. But like "About Schmidt" or "As Good As It Gets," this film is also a poignant reflection on the human condition and on growing older in America. "The Savages" is tragic, acidic, hopeful, and full of compelling frankness and depth of character.
"The Savages" is the tale of three people inescapably bound together by family. All three are flawed, broken, and unsure how to navigate in the awkward situation they find themselves in at the beginning of the film.
Wendy Savage (Laura Linney) is an aspiring playwright having an unsatisfying affair with a married man. She is a middle-age New Yorker whose less-than-perfect childhood has left her addled by modernity and all its trappings. Enabled by self-help media-philosophies, therapy, and a steady stream of pharmaceuticals, Wendy is always on the verge of having her shit together. Linney gives a deeply nuanced performance that avoids cliché and conventional treatments of a contemporary woman in the midst of a mid-life crisis.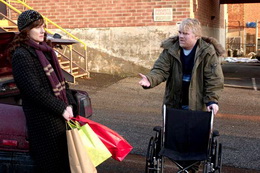 Her brother Jon (Philip Seymour Hoffman) has a somewhat justifiable suspicion of her abilities as a writer and a person, which simultaneously makes him less sympathetic and acts to bond the audience to Wendy as we begin to understand the nature of her relationships with the men in her life. Jon is a theater professor who is forced to engage with Wendy after the unexpected death of their elderly father's significant other. The family patriarch, Lenny Savage (Philip Bosco), is suddenly left without a home and struggling with dementia.
Jenkins' exploration of the Savage's familial relationship is compelling for a number of reasons. First, both children are uncertain and less than enthused about assisting their ailing dad. While Jenkins doesn't paint a clear picture of Lenny's failings as a father, she makes sure we're aware that there are plenty to choose from.
Secondly, "The Savages" looks at the miserable and everyday occurrence of deciding what to do for a parent or loved one no longer able to care for themselves. Not since "About Schmidt" have we seen a portrait of the process of getting old in America with this level of style, intellect and honesty.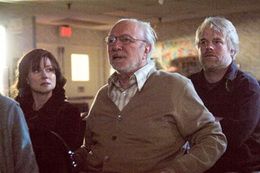 The film's humor is biting and smart, balancing perfectly sharp, edgy comedy with the bleakness often exuded by its three highly-developed main characters.
The film is visually exciting as well. Jenkins opens the film with a Wes Anderson-esque sequence of colorfully clad and totally abstractly-related cheerleaders emerging dramatically from an evenly spaced, highly tailored row of green trees. The film's palette and cinematography are steady and diverse, and allow Jenkins to artfully traverse a color-soaked reunion in Arizona and a drab winter's search for nursing homes in Buffalo, NY with continuity.
"The Savages" features two stellar performances, those from Laura Linney and Philip Seymour Hoffman, with a righteous script to match. I look forward to more work from Jenkins, a writer, actor, and director who has worked sparsely at all three since the early 90's. With this film, she has cemented herself as a force both on the page and behind the lens.
As I mentioned previously in my Top 10 of 2007, "The Savages" has my favorite closing scene of the year. If I wasn't already completely sold on the film by the last act the final twenty seconds offers a subtle message of hope that sent me out of the theater satisfied and smiling.