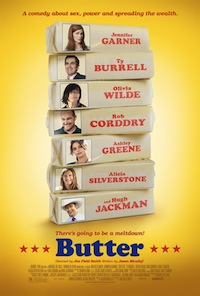 Sincerity and over sentimentality are being paired more and more with open vulgarity. I will admit that this often confuses me, because a few well-placed curse words or sexual hand gestures don't remove the weepy implausibility of a successful entertainment news anchor keeping a baby that results from a one-night stand, or the stealing of a corpse with an awkward elementary aged erotic dancer who is making the pageant rounds with her highly dysfunctional family.
To put vulgarity or even a small sense of reality alongside bald-faced sentimentality requires a distinct and almost impossible suspension of disbelief. Put bluntly, Knocked Up is only a few marijuana references away from being Nine Months, both are ridiculous in their premises and neither offers a payoff worthy of what each asks from its audience.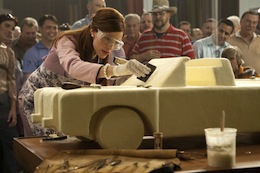 There are films like Todd Solondz' Welcome to the Dollhouse or Alexander Payne's Election that use this sense of sentimentality or naivety to create an ever darker, more troubling comedy, but each ends with the characters forced to accept their failures, and the bleak consequences of their actions.
For every Welcome to the Dollhouse there is a Little Miss Sunshine, which glosses over the struggles and consequences of its characters to give us a feel good film where little girls can steal dead grandfathers and dance like strippers as long as it's an assertion of family togetherness.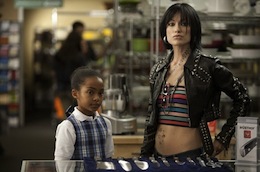 Continuing this trend is Butter. It is the story of an unlikely rivalry between a young orphan girl, Destiny (Yara Shahidi), and an ambitious housewife, Laura Pickler (Jennifer Garner), whose husband, Bob (Ty Burrell) has been the reigning butter carving champion for the last 15 years. Because of Bob's recent affair with stripper Tokyo Rose, a.k.a. Brooke Swinkowski (Olivia Wilde), and his withdrawal from the carving competition, Laura takes up the trowel in an attempt to keep the title in the family. The alliances and backstabbing become more convoluted as Laura's high school ex, Boyd Bolton (Hugh Jackman), and Destiny's foster parents, Julie (Alicia Silverstone) and Ethan (Rob Corddry), become involved.
Butter carving most places would be considered kitsch art, but at the Iowa State Fair, it's as serious as it comes.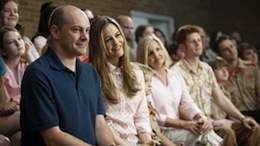 The film's comedy comes entirely from its ridiculous setup, because almost every single scene between its characters is awkward to sad. This gives the film a weird tone. Many times I felt like I was supposed to laugh, but then couldn't because there wasn't anything funny about this group of adults who were less mature than the 10-year-old they were attempting to destroy.
Each actor is well cast. Jackman, Garner and Silverstone continue to show their limited range, but each is appropriate for the part they play. Rob Corddry shows some exceptional skill especially in his scenes with young Yara Shahidi. The two of them seem to have a genuine rapport and it makes their scenes the most believable in the film.
The acting is okay to good, and the story is fine, but there is a tonal weirdness that is unsettling if you think about it. If you turn your brain to low, and just want a film that will give you dick jokes as well as an orphan who finds her family, then I suppose Butter will do.