For the on-camera review with clips from the movie, click here.
Before the critical triumph of the surprisingly warm-hearted black comedy "Fargo" in 1996, Joel and Ethan Coen's critics had accused the brothers' movies of being cold and detached—exercises in cinematic virtuosity, for sure, but lacking empathy for their characters and instead reveling in any opportunity to put them through the wringer.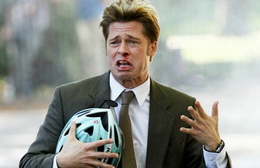 Those critics are going to hate "Burn After Reading."
Is it cynical? Yes. Is it mean-spirited? Of course. But—is it funny? Hell yeah.
I guess the answer to that last question really depends on your sense of humor. "Burn After Reading" is certainly not the upbeat romp that its trailers make it out to be. The Coens wrote this at the same time they were adapting last year's Best Picture winner "No Country for Old Men," and it looks like that film's existential dread rubbed off on this one in a big way.
Like "No Country"'s harried protagonist Llewelyn Moss, middle-aged fitness club employee Linda Litzke (Frances McDormand) must make some hard and fast choices when an opportunity to improve her life presents itself. A CD-Rom that may contain classified CIA secrets has fallen into the hands of her friend and co-worker, a hyperactive knucklehead named Chad Feldheimer (Brad Pitt). When Linda decides to blackmail the disc's apparent owner, fired agent Osborne Cox (John Malkovich), it sets her on the road to getting that image-improving plastic surgery she wants so badly.
In a series of events too convoluted and ridiculous to believe, Linda is suddenly mixed up with a perverted womanizer (George Clooney), Cox's icy wife (Tilda Swinton), and a lonely boss who has a crush on her (Richard Jenkins). The plot is a slow build towards a manic conclusion, full of shocking violence and shockingly bizarre revelations.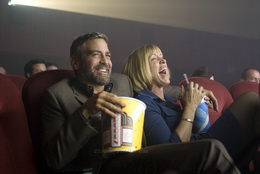 The Coens' wicked black humor is on full display here, but I would argue against those who say that the writer-director team have no empathy for their characters. It is easy to get involved with the plight of poor Linda, who is so desperate to be noticed that she can't notice the people who like her the way she is. Malkovich's CIA consultant may be self-righteous, but when it comes to getting fired, who can't relate to that? Even Clooney's philandering husband really seems to love his wife—he just can't help himself.
What will piss most people off is the bleak and hopeless worldview that the Coens subscribe to. In a typical Hollywood script, the bad characters are either punished or redeemed and the good ones are allowed a moment of triumph, be it literal or symbolic. Like "No Country for Old Men," the world of "Burn" seems indifferent to the plight of the average downtrodden American citizen, even if it was their own weaknesses that got them into this jam in the first place.
Hey, at least the Coens have the good humor to be able to laugh in the first place. It's easy to read a "News of the Weird" column in the newspaper and laugh at the guy with a terrible diet who was killed by his own flatulence. It's another thing to spend an entire movie getting invested in pathetic characters portrayed by likeable actors, and to have it all blow up in your face, leaving you to wonder why you bothered.
If "No Country" left us to ponder the notion of the random and cruel ways that our seemingly limitless freedom of choice can relate to the bigger picture, then "Burn After Reading" puts an exclamation point on the pointlessness of it all. Whether you are able to laugh at the gratuitous inelegance that the Coens' universe depicts will depend on you. The last five minutes of "Burn After Reading" had me in hysterics.
Humphrey Bogart famously said in "Casablanca" that "it doesn't take much to see that the problems of three little people don't amount to a hill of beans in this crazy world." Joel and Ethan Coen believe that too. They just have a way more thoroughly sick and twisted way of pointing it out.