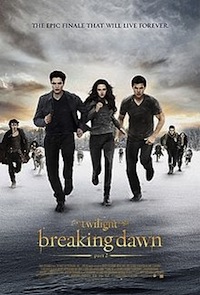 Occasionally when writing my reviews, I feel as though I'm throwing the words down a deep, dark hole, exiling them to some forgotten realm of the Internet.
This is one of those moments.
If you love The Twilight Saga, just stop reading. I won't convince you of anything, nor will your comments convince me to join teams Edward, Jacob or Bella.
Arguing for or against The Twilight Saga: Breaking Dawn – Part 2 is similar to arguing for or against fast food. You may know it's bad for you, but it's convenient and easy to cram down your gullet as you drive to work. Never mind it has no nutritive value.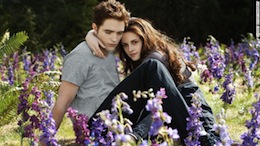 Breaking Dawn – Part 2 is the cinematic version of mechanically separated poultry.
I do not believe I am a member of Breaking Dawn's target audience, but I have seen the rest the films in The Twilight Saga and my assessment of them is this: They spend all of their time talking about something while never really getting around to doing that discussed thing.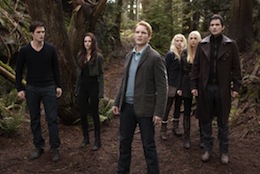 In the first film it was whether or not Bella (played by the never-emotive Kristen Stewart) should date the coruscant Edward (played by the ever-British Robert Pattinson). With New Moon things become complicated when Bella gets a glimpse of Jacob's (Taylor Lautner) abs, but nothing really changes. Eclipse tells us of the possible dangers that arise when a human knows of vampires, but again nothing really happens.
Finally in Breaking Dawn – Part 1 we are teased with the consummation of this excruciating relationship between a sullen and possessive vampire and an insecure and personality-less teen. Here we watch as Bella struggles with her anxiety over performance issues leading up to the honeymoon night, then we skip the honeymoon night, and move straight into insecurities at knowing your partner is holding back, and the excessive repercussion of impregnation with a deadly monster baby.
Each of these films has a terrible view of relationships and sexuality. Each is reprehensible in its tone and message, and even more troubling they don't give you the thing that torments or challenges the characters or viewer.
The final film is no different. Breaking Dawn – Part 2 is all talk and no substance. There is a little mystery that is over far too quickly, a little weirdness with Jacob imprinting on the vulgar CGI baby, Renesmee (sort of played by Mackenzie Foy), and a final epic battle that is no more than simple slight of hand. In the end we realize that nothing more than talking about something has happened. It is wholly unsatisfying.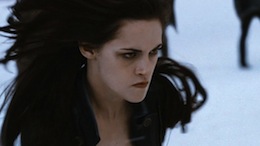 More than that, in the reality of Twilight no real sacrifice is made. Bella gets her dad, her baby, her dude, her best friend, and the glittery family she has always wanted without having to make a real choice or sacrifice. She doesn't even struggle with what she has become after her metamorphosis into a vampire. It is all too easy.
I've been told that these films offer a sort of wish fulfillment. They are the female equivalent to The Avengers, a simple stupid world that is crafted to give its built in audience exactly what they want. If a director were to take liberties with the source material in order to craft something thoughtful, they would alienate the already committed audience without gaining an alternative audience looking for a challenging or well-crafted film.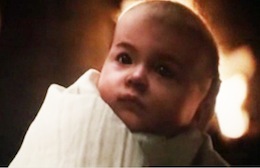 Even if we critique it on its own terms, as an epic special effects finale, there is a monstrous computer generated baby that is so hideous and apparent that none of the fun moments can shine through. It is a special effects baby black hole from which nothing can escape.
There are a couple of supporting roles that are fun, and a few moments that take us to the edge of excitement. Unfortunately we must return to our central characters, which are by far the least interesting of the bunch, and suffer through the boredom of their sentimental waffling.
It was a dumb idea from the beginning, and I'm glad it is over. Goodbye The Twilight Saga. Please never return.