"The Bourne Ultimatum" is the best of the Bourne franchise's three films. I went back and watched "Identity" and "Supremacy" just this week to make sure. "Ultimatum" is a frenzied journey that layers chase scene upon chase scene into a furiously paced action-adventure extravaganza that never lets up. Even so, I still miss Franka Potente.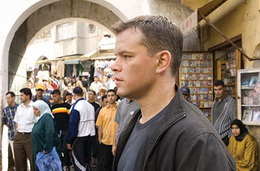 "Ultimatum" hinges on the loosely-defined relationship Bourne developed with Pam Landey (Joan Allen) in the last movie. This time Landey is brought in as the Bourne expert to assist Noah Vosen (David Straithairn), yet another suspicious character inside the agency, in Bourne's kill or capture. All the while Bourne is struggling to uncover the story behind his ever increasing flashbacks. He would like nothing better than to piece together the details of his history with Treadstone, the super-secret government operation that made him an assassin.
Between "Supremacy" and "Ultimatum," director Paul Greengrass made "United 93," which was easily one of last year's most gripping and groundbreaking examples of filmmaking. "Ultimatum" looks and feels different than "Supremacy" in a multitude of ways– some obvious (the plot is way less convoluted) and some more subtly perceived (an even quicker pace and more frequent use of long shots).
As I mentioned, this film is largely a series of exciting chase sequences, both on foot and in cars. Greengrass' highly developed sense of realism bombards the audience with a symphony of vehicular destruction that seems to focus more on the colliding machines at the moment of impact than we've ever witnessed before. The carnage appears more believable here, as does the damage to the vehicles. Unlike a slew of other Hollywood smash-ups where the hero leaves a trail of automotive devastation in their wake while they and their car are only marginally affected, in "Ultimatum," Greengrass opts for a much more naturalistic approach. This is particularly evident in one relentless sequence in which Bourne leaves a stolen police car looking more like a used-up paper mache pinata.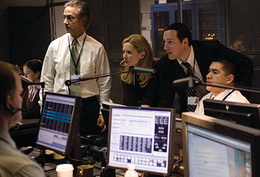 In another riveting sequence, Greengrass follows Bourne through a massive chase scene that leads to a rooftop pursuit and ultimately ends in the most exciting and violent hand-to-hand fight sequence of the series, as Bourne takes on yet another super-agent sent to end him. Greengrass adds tension by showing the battle from overhead as the two trained killers slam each other into the walls of a tiny bathroom. This unique perspective shows off the exceptional fight choreography and captures a mortal showdown with all the visceral energy of two great white sharks trapped in a phone booth.
"The Bourne Ultimatum" definitely brings the action fireworks more proficiently than any recent films have managed to do, including the earlier two in the series. However, the consistent flaw with the Bourne movies is the weak plot lines that underpin the agency villains. Straithairn and Albert Finney are more than passable in their characters' insidious capacities (as were Brian Cox and Chris Cooper before them), but somewhere in all the confidential files and computer tracking software – it just doesn't play. The intention is clearly to show us that Bourne is redeemable. If what happened to him– that he was duped in the name of service to his country– was unethical, and we can see the faces of those who did this to him, then we can see clear to root for a killing machine and despise the corruption and evil that made him into a monster. The problem is that though three films and a handful of agency villains, it has become difficult to buy that there are this many evil masterminds of covert indecency on the same payroll.
Lastly, I miss Franka Potente. She brought a balance and beauty to the first film and added a further conflict to Bourne that made the character less of a simple action explosion and more a three-dimensional human in crisis. Julia Stiles' character Nicky Parsons is finally given enough screen time in "Ultimatum" to allow her character to develop and have some meaning in the greater story. However, I maintain that Stiles was poorly cast in the first place, and is unable to bring the complexity that Potente's Marie did in the previous films. Something about the beauty and the beast story line in "Identity" gives it an edge over the other stories, even if supreme action wins out in the end.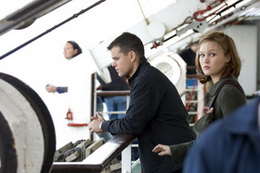 "The Bourne Ultimatum" is an unmitigated action free-for-all. What it lacks in depth of character it makes up for in kinetic energy and thrills. This was the last of the Bourne books penned by author Robert Ludlum, although there was a fourth book written by Eric Van Lustbader called "The Bourne Legacy," so this may not be the last we see of Jason Bourne. As long as Greengrass is at the helm, I hope itis not.