Road trip movies, especially those involving family members at odds with one another, are a cost-effective and easy way to earn a few bucks at the box office and round up some major celebrities to have a group therapy session in the back of the old station wagon, as all the characters recover in similar ways on the open road to life.
No exception to the rule, Boundaries (directed by Shana Feste) tells the story of how Laura (Vera Farmiga) drives her pot-smoking curmudgeon father Jack, (Christopher Plummer) across the country after getting kicked out of the nursing home. Through this journey they learn to cope with one another after being estranged for years. Sound familiar?
Laura has a lot of issues. For one thing, her son Henry (Lewis MacDougall) is a social outcast and prides himself of drawing nude portraits of those around him. Many of which are Laura's beaus. She picks up stray animals against her therapist's wishes, and she works a menial job for a rich diva with issues of her own (you know: like getting that white tiger for a Sweet 16 party). When they have to pick grandpa up, all her past experiences of not having a father figure around only come back to make her hurt more.
When grandpa does join in the "fun," he brings along his illegal stash of weed. You would think hijinks ensue, but they don't. Instead like all road-trip indie films go, we meet Jack's old friends Stanley (Christopher Lloyd) and Joey (Peter Fonda). Laura too reconnects with her old flame and Henry's father Leonard (Bobby Cannavale) for a simple one-night stand on their way to their final destination, Laura's sister JoJo (Kristen Schaal).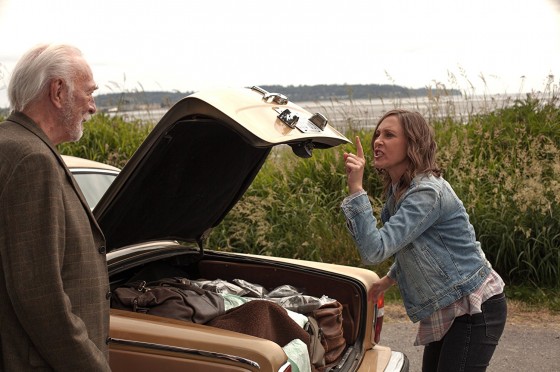 The main problem with Boundaries is how forgettable this all is. You see group therapy sessions on the road in countless other films that are better or have at least a bit of laughs in them. This film wants to force laughter out of you, especially with the old cliche that gramps sells weed on the side. Like "Wake up Hollywood, sometimes old people do these things!" He tries to use his own grandson to help him in his schemes. I never once felt a connection with the two leads and their core conflict of just being distant is so overused. I'm not going to remember this in the long run, unlike others in the same sub-genre like Little Miss Sunshine or Cloudburst.
So yeah, in the long run, Boundaries is your typical indie road-trip movie. I wanted to like it so much more, but I think the goodwill that I did have came from the cast, not the script. There's a lot of fun celebrities in this that I feel maybe just wanted to all work together and have a good time.