After a screening at last weekend's KC FilmFest at the AMC Mainstreet Theatre in Kansas City's Power & Light district, the appropriately titled B-movie "Bonnie and Clyde vs. Dracula" will have a limited run this weekend only at the downtown Screenland Theater.
On the surface, the title sets your expectations perfectly. Tiffany Shepis and Trent Haaga, frequent stars of Lloyd Kaufman's Troma Entertainment pictures, are the murderous 1930s bank robbers. Bonnie and Clyde are out of money and without a car, stuck in an empty whorehouse in the middle of nowhere. The prostitutes are gone because they were bought up by Dr. Loveless (Allen Lowman), a deformed evil doctor who wears a burlap bag over his head. His woman-child sister Annabel (Jennifer Friend) is held captive by the doctor with the help of an electronic dog collar, and the two communicate through room-to-room intercoms.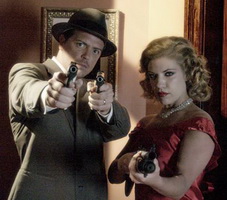 So where's Dracula (Russell Friend), you may ask? Well, he's been revived by Loveless, and is feeding on the prostitutes to gain strength, of course.
Believe it or not, the title and plot summary make "Bonnie and Clyde vs. Dracula" sound a lot more wacky than it actually is. Writer/director Timothy Friend actually tries to play this ridiculous premise straight, and is helped considerably by Shepis and Haaga, whose chemistry is palpable. Clyde doesn't want to let her know how desperate things their situation is and, although she is the dominant force in their relationship, Bonnie is not afraid to stand by her man in a bad situation.
For a B-movie with such an absurd title, though, I have to admit I was hoping for some truly demented dialogue and crazier plot twists. Timothy Friend has concocted a pretty straightforward heist-gone-wrong plot and there's quite a bit of tedious downtime. On the other hand, credit goes to him and his lead actors for creating a believable relationship in a movie that has no business having one.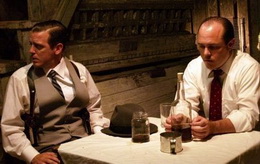 The HD-shot low budget film–filmed in St. Joseph, MO–looks good and benefits from quite a bit of magic-hour lighting and nice landscape shots. There is also the requisite amount of blood and gore, all of it quite well done.
The only thing that makes the title itself somewhat deceiving is that Bonnie and Clyde don't actually fight Dracula for very long. In fact, when the final showdown happens, it lasts about one minute and is a little anti-climactic.
Those looking for a "rough and tumble" B-movie good time–as the film's synopsis promises–may be a little disappointed, but don't be surprised if you find yourself strangely invested in Bonnie and Clyde themselves.