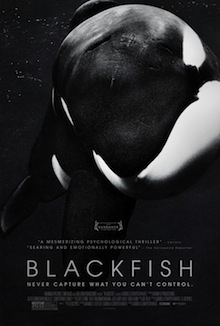 Blackfish, the documentary from director/co-writer Gabriela Cowperthwaite contains a simple truth that it spends its 83-minute runtime explaining, evaluating and returning to over and over again – keeping majestic, powerful creatures in captivity for interactive entertainment is wrong.
The film, which features former Sea World and other water park orca trainers detailing their experiences with the whales, begins with Sea World trainer Dawn Brancheau's death from wounds sustained from a 12,000-pound orca name Tilicum before going back in time and expanding in too many directions.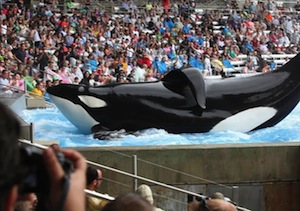 The documentary definitely has a point of view, though it does make it known that every attempt to feature current Sea World staff and scientists were turned down. Save one former employee who speaks up on the park's side, the statements from former staff as well as OSHA expert witnesses, eye witnesses and surviving family members are all in condemnation of the treatment of the park's main attractions, which, given the footage, information and a human heart that doesn't pump ice water, is completely understandable.
Within the film's 15-minute mark, we're already exposed to Brancheau's death, but in a scene that is even more heart-wrenching, a former whaler details what it's like to corner and capture a pack of whales. It's a depiction that is memorable not just because of the matter-of-fact recounting, but because of the deep emotional effect it has on the man telling it, a man who has been in more than one military coups and in his own words, "seen things you wouldn't believe."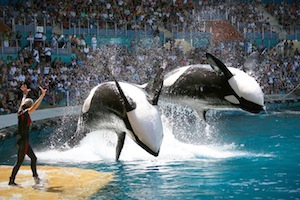 Blackfish is full of moments like this.  Whether it's a trainer admitting that the only reason he stayed at the park for as long as he did was because of pity for the animals or a neurologist explaining that an orca's emotional understanding are highly evolved, and the subsequent footage of mother orcas crying out for their children, there are deeply emotional moments in the film to prey on the viewer's humanity. And rightfully so.
The level of access Cowperthwaite has is remarkable. Not only to former trainers, but the amount of found footage and news broadcasts is staggering, but if the film suffer's not from a drought of footage or a proper emotional anchor, but from not knowing which kind of film it wants to be. At one point it is an advocacy film. At another it borders on mystery. Later on, it focuses on Sea World corporate and even insinuates that witnesses lied under testimony in the Brancheau investigation.
It's understandable that with a topic this emotionally engaging, that a person would want to dissect it from every angle, but had the film chosen one story – the treatment of Tilicum, the coverup around Brancheau's death, number of orca attacks while in captivity or even the intentionally misleading public information surrounding the creatures in captivity and built a film entirely around that subject, instead of making room for all of the above, it may have been more compelling.
That said, there are moments in Blackfish that are impossible to unsee. And a late revelation regarding Brancheau's death is intensely unnerving. Blackfish suffers from a burden of rich footage, and an unfocused narrative, but every part of it is compelling, even if the whole is uneven. And while it's truth may be an obvious one to anyone with a sense of compassion, that doesn't make it any less true.