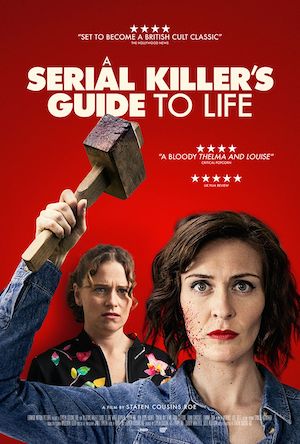 [Rating: Solid Rock Fist Up]
Laden with British character actors and featuring a whip-smart story, director Staten Cousins Roe's feature, A Serial Killer's Guide To Life (out January 13 on iTunes and Digital HD from Arrow Films), takes the road movie formula and turns it into a dryly black comedy about finding one's true self.
"A Serial Killer's Guide To Life follows Lou Farnt (Katie Brayben): a 30-something, self-help addict who wants nothing more than to escape her overly controlling mother and the dead-end seaside town where she grew up. So when strange and strikingly confident new life coach Val (Poppy Roe) suddenly arrives on the scene and invites her on a road trip of alternative therapies, Lou finds the perfect opportunity to leave, and the perfect person to become. Unfortunately for Lou, Val's a serial killer!"
Ahead of seeing Roe's film, I'd read quite a few reviews comparing it to Alice Lowe's 2016 black comedy, Prevenge, and they're not without validity: both films see a downtrodden, put-upon British woman in her mid-30s finding her way in the world by murdering those who've either actively or inactively kept her down. The tone of both Roe and Lowe's film have a certain hazy quality to them, as well, wherein it's difficult to know whether we're experiencing the story as it actually happened, or if the story's a bit muddled, courtesy of our not-quite-insane-but-definitely-slightly-mad unreliable narrator.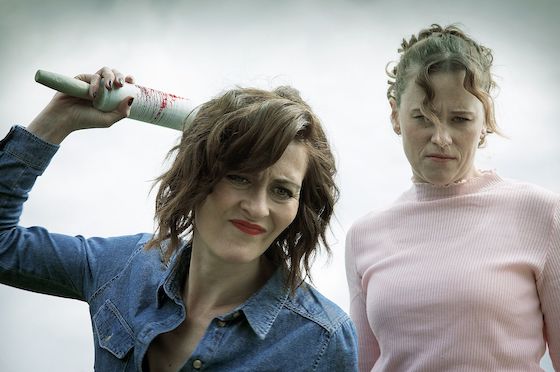 However, after taking some time to reflect upon it, I really got the sense that Roe's influence was more akin to the Rémy Belvaux, André Bonzel and Benoît Poelvoorde 1992 Belgian film Man Bites Dog. While the documentary crew within that film know from the start that its protagonist is a serial killer, and Lou only gradually comes to the realization that Val's been knocking off folks as they drive about the British countryside, in both cases, the followers quickly become willing participants in the murders committed by the lead.
Thankfully, A Serial Killer's Guide To Life never goes as dark as Man Bites Dog, instead taking the idea that, maybe, killing one's idols should be taken literally. Brayben as Lou is so very, very sad sack in film's opening scenes that watching Roe's film, one has a difficult time warming up to her. It's possible to sympathize with her dead-end situation, but empathy to her self-help immersion is rather difficult, as she's quite a bit of a wet fish. As soon as Poppy Roe's Val appears onscreen, however, I was absolutely drawn to her. She didn't give a fig, and seemed to be an even sharper-edged version of Phoebe Waller Bridge's Fleabag (although that might be due to Fleabag's Sian Clifford in a role as a rebirthing coach). There's no equivocation in Val, and you immediately see why Lou's willing to run off and follow her.
The various therapy sessions the pair of Lou and Val visit are all astonishingly real: back-to-nature, vibrational healing, rebirthing, and laughter all have their adherents, and after doing some reading up on each, it appears that the words and actions taken by the film's fictional therapists aren't being exaggerated for laughs. This is all the more hilarious for being real, I suppose. Depending on whether you give any credence to what the practitioners do or instead, view them as money-grubbing charlatans, your mileage may vary as to how stoked you are for their inevitable demise, but personally, I felt some of them definitely deserved it. Marcus (Owain Rhys Davies), the vibrational healer and his "herbal relaxant" certainly needed that bread knife.
Really, though, it's Lou's growth and dawning realization as to Val's plan – as well as the connectivity between the two – which anchors A Serial Killer's Guide To Life. Poppy Roe as Val is what will draw you in, because she's positively electric, but as Lou, Katie Brayben absolutely transforms from a milksop to a fully-realized person, and it's brilliant to see someone grab life by the horns and smack it in the forehead with a rolling pin.