The last time Sandra Bullock played a crisis survivor with a complicated relationship to motherhood, it was in the superlative experiential drama Gravity. Bullock is well-suited to this mode of acting and completely believable, but the material needs to rise to meet her performance.
Put simply, the new Netflix "thriller" Bird Box, adapted by Eric Heisserer from the novel by Josh Malerman, does not. There is corny material everywhere in this two-hour wade through the shallow end of the paranoia pool. Bird Box deals with a world-altering crisis and how a group of survivors makes its way through it but doesn't hold the strength of its convictions, like any good zombie film should.
It's not a zombie film, mind you, it's just that the structure absolutely fits that mold. In fact, with unintentionally funny scenes featuring its characters hurtling themselves head-first through windows to commit suicide, Bird Box sadly has more in common with the M. Night Shyamalan disasterpiece The Happening. Surely, this is not what director Suzanne Bier (In a Better World, TV's The Night Manager) intended.
There are essentially two stories told throughout the film: Flashbacks about the origin of the mass-suicide crisis and a present-day story of an escape with Bullock shepherding two kids up a river through dangerous territories while all three of them are blindfolded.
The origin story of this world-altering event starts out promising with a very tense and chaotic action sequence right off the bat, but the dialogue is suspect even then. The usually reliable Sarah Paulson plays Bullock's sister and the two have great chemistry, but it sounds like each of them is trying too hard to pitch the backstories of their characters. This devolves into Bullock being trapped in a house with every stock "survivor" character you can think of. Poor decision after poor decision by the people in the house quickly narrows down what could be happening, but it also narrows down the cast, in what becomes that very tired horror-movie trope. It doesn't help that terrific actors like John Malkovich, Jackie Weaver, Trevante Rhodes, Danielle Macdonald, and Lil Rel Howery are wasted.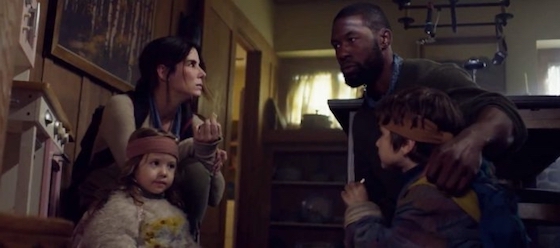 The way the trapped characters immediately start diagnosing what the international "plague" is and how they are suddenly so focused on each other when all their families are dead just minutes before is a grave misjudgment in time compression. It's as if they all understand right away that they'll be in a pressure-cooker trapped situation for the rest of the film and are ready way too early to get on with it.
What should be momentous character beats are all but skipped. Once they've accepted the kind of story they are in, they begin sharing about their families and those oh-so helpful keys to unlocking their past that will inform their present and get them out of this mess. Then the other story finally takes over as the main one, and there's just enough mystery in it to keep you vaguely invested in where it's leading.
In the present-day narrative, we've already begun to make assumptions about who the kids are and how Bullock got in this position, but the unseen terror works better as a concept in large numbers. When it's down to individual characters, the "crazy" acting is silly and not scary at all, despite some violent attempts at shock scares. Again, I'd be remiss to not mention the hilarious scene in The Happening where Betty Buckley (Eight is Enough) rams her head through a window because that exact thing happens here, only going out instead of in. Even the final scene of Bird Box has a really corny Shyamalan-like reveal that unintentionally plays like comedy.
Not even Sandra Bullock could save this third-rate "thriller" that really does play like a 90's-era made-for-TV movie.