This weekend the Screenland Armour is the home of Panic Fest, a horror and thriller film fest with vendors that acts as general celebration of everything creepy, crawly, and scary. It's a great fest for people who like their horror a little more off the beaten path than the latest uninspired remake of whatever classic horror film Hollywood is butchering next.
On a personal note, before I get into the two movies that I watched that will be part of the fest, I love the Screenland Armour. It's a really cool theater that does a lot of fun things. If you haven't made a trip there yet, I can't stress this enough, you are really missing out on one of the best places in KC to watch a movie.
Now that I've gotten my blatant homerism out of the way, let's take a look at a couple of this films that will be a part of the fest.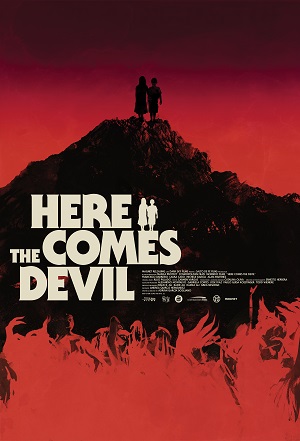 Here Comes the Devil
First up of we go south of the border for writer/director Adrián García Bogliano's Here Comes the Devil, a Mexican 2012 release that is just now starting to make the rounds here in the States.
A couple take their kids out on a day trip, and while they decide to take an afternoon nap, the kids go climbing around a rocky, cave-filled hill. Told to come back in an hour and and half, the children don't return and are not found until the following morning. Once they return however, the kids are changed by some terrifying incident that happened on the hill.
Since this is showing at a horror fest, I don't think it's exactly a spoiler to say that there's more going on with the kids than just a being spooked out after being lost for the night. There are supernatural forces involved here.
Devil has a nice, spooky, slow burn to it that is a call back to a lot of 70's psychological horror films where less was more. It's able hold the tension up through its 97-minute running time very nicely too. It also features solid performances from the two leads, Francisco Barreiro and Laura Caro. Their emotional journey through losing their two children and trying to piece together exactly what happened to them is the foundation of the movie's constant tension.
However, all of those positives can't change the fact that ultimately Here Comes The Devil isn't really about anything, and doesn't have much of a story to tell. I found the ending unsatisfying and it left me wanting a better resolution. It kinda just ends up being , "evil is as evil does," to turn a phrase from Forrest Gump.
Here Comes the Devil is sexy at times, shocking at times, but it is also all over the place. It tries to combine a lot of genres: Revenge, possessed child, sexual coming-of-age punishment, but to only marginally effective results. It starts a lot of different story threads, but doesn't ever really tie them together very well. It reminded me of Rob Zombie's Lords of Salem in that respect, but this is a much better film even with all of the unresolved story lines.
I give Here Comes the Devil a Minor Rock Fist Down. For the most part I enjoyed the ride, but the resolution was lacking, and that ultimately holds the move back from turning that rock fist to an up position.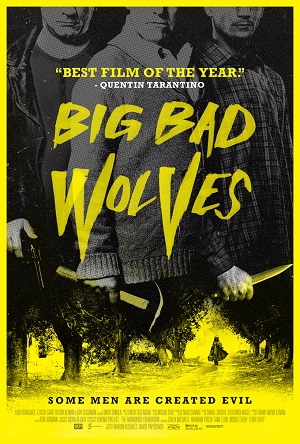 Big Bad Wolves
The other film I had a chance to see in advance is from Israel, Aharon Keshales and Navot Papushado's Big Bad Wolves. Wolves' promotional material proudly displays a quote from Quentin Tarantino proclaiming it," The best film of the year." I can see why he was impressed. Wow! Where to even begin with this amazing piece of work? I don't know if I'd declare Big Bad Wolves as the best movie of the year, but I can say without a doubt that it's among the best 2013 releases I've seen.
Wolves tells the story of a suspected child killer and two men's quest to bring him to some sort of justice.
I really don't want to say much more about it for fear of accidentally giving something away. The movie fits more in the thriller category than horror, even though there are some very horrific moments. It also has some very interesting ideas on revenge, and vigilante justice.
It's smart, funny at times, bold, and original in its execution. It also has one of the most powerful endings I've seen in a long, long time, which had me thinking about the movie long after the final credits rolled. If you must know more, watch the trailer, I refuse be responsible for spoiling anything here.
Just know this, it's worth a trip to Panic Fest this weekend just to see Big Bad Wolves.
Rock Fist Way Up. Do yourself a favor and go see it. You'll never think of wisecracking, outside-the-law, Hollywood heroes the same way again after spending 110 minutes with Big Bad Wolves.