For a movie about two guys who play professional soccer for a living, "Rudo y Cursi" has an alarming lack of actual soccer playing in it. It would be easy to label the Mexican import starring Diego Luna and Gael Garcia Bernal as a sports film, but it wouldn't really be true. Unfortunately, the kind of movie that it actually is isn't all that original either.
Essentially, Carlos Cuaron (who co-wrote "Y Tu Mamá También" with his brother Alfonso) has directed a typical rise-and-fall picture. Granted, it has loads of local flavor and two appealing leads, but it adds little to the genre and is too melodramatic to rise above.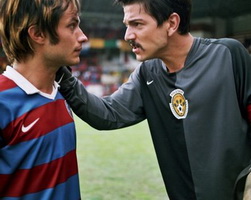 The plot is pretty formulaic stuff, as it follows two half brothers who are implausibly plucked out of obscurity by a talent scout (Guillermo Francella) when his car breaks down in the middle of nowhere. Francella's seedy/philosophical narration is one heavy-handed device in a movie that at least has a clear grasp of its characters—his seedy scout in particular seems to get equal amount of personal pleasure helping his boys to success as he does enjoying the success they have afforded him.
For American audiences, the cultural mores of a poor extended family living on a banana plantation will be nice window dressing, and "Rudo y Cursi" does a nice job sketching a portrait of extended family living in a small Mexican city.
Their soccer positions are extensions of their actual personalities: Bernal plays the fiesty and temperamental forward who dreams of bigger scores and Luna is the level-headed goalkeeper who must save everybody else. But if this movie ends in a championship showdown between two brothers on opposite teams, I'm going to be really disappointed … aww, man!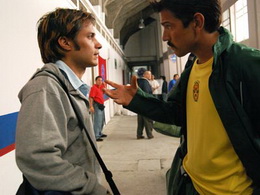 Once they move to the big city, of course, each brother tastes success in their own way while also indulging in self-destructive behavior that will threaten the very success they have always dreamed of. Tato—nicknamed Cursi, played by Bernal—wants to be a pop singer, but seems to be the only person who doesn't understand he can't sing. (He does do an atonal traditional Mexican version of Cheap Trick's "I Want You to Want Me" that's pretty funny.) The artificial world of showbiz is clearly something that the wide-eyed, trusting lad isn't ready for either.
On the other hand, Beto—nicknamed Rudo, played by Luna—is a father who wants to provide for his wife and child but also has a severe gambling problem. From the first moment he meets a sleazy high-stakes mobster, it's pretty easy to see where this is all headed, and pretty disappointing to see that that's exactly how it plays out.
"Rudo y Cursi" certainly benefits from the performances of Luna and Bernal, whose onscreen chemistry has lost nothing since the pair burst on the international movie scene in 2001 in the decidedly more layered and poignant "Y Tu Mamá También." The good nature they exude is infectious and helps the story over some rough patches for sure.
The film also scores with its frank and cynical view of Mexican professional sports, where payoffs and egos decide the fate of more games than actual talent does.
The story really is about the bond between brothers against the vibrant and tempting backdrop of Mexico City, so the lack of actual soccer playing doesn't really hurt the movie all that much, but it is odd when key shots of the main characters seem to be missing right in the middle of an important game while Cuaron cuts to crowd shots. In the end, "Rudo y Cursi" is engaging because of its setting and stars and little else.