Drew Barrymore's directorial debut "Whip It" is so overflowing with enthusiastic performances that it is impossible to watch it and not have a good time.
Sure, you may notice an over-reliance on music montages to show the evolution of a budding teenage romance. You may also think you know where the movie is headed from the first moments. Since it's a sports film (based on the rough n' tumble female roller derby leagues in Austin, TX), you also understand that everything is leading up to the big game.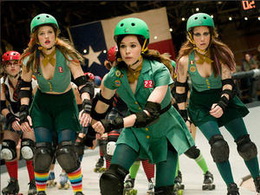 But you know what? With as much energy as Barrymore puts into every part of the movie, it's a joy to watch small-town beauty queen Bliss Cavendar (played by Ellen Page from "Juno") turn into badass punky rollergirl Babe Ruthless, even if it isn't completely believable that it happens that fast.
Based on the book Derby Girl by Shauna Cross, an actual Texas Rollergirl, "Whip It" casts poor Bliss as a girl who wants more out of life than her stereotypical small Texas town can offer. Her Mom, a former pageant winner herself (played by Marcia Gay Harden), is living out her dreams again through her daughter. But Bliss wears her Mom's old Christian heavy-metal band T-shirt for irony's sake and wants cool thrift shop clothes.
Naturally, she's bound for Austin.
As high-school misfit Bliss meets and all-too-quickly joins up with the losingest team on the roller derby circuit, she finds a new group of friends and a community that she finally fits into, even if it is populated by thirtysomethings Kristen Wiig (playing Maggie Mayhem, the actual stage name of Cross) and Drew Barrymore (as the always-late and accident-prone Smashley Simpson).
South Street, Waterloo Records, the Alamo Drafthouse, and other ultra-cool Austin hangouts are the backdrop for a love affair Bliss has with a younger Richard Ashcroft look-alike (Landon Pigg) who—like everyone in Austin—plays in a band. Even though they rarely have any intelligent dialogue between them onscreen, they quickly fall in love. (Come to think of it, many early relationships are like this—based mostly on "newness" and physical attraction.)
OK. I just read everything I've written so far and it sounds like I'm really bagging on this film. I'm not. I shouldn't be. Because for as much of "Whip It" is by-the-books in the screenplay department, Barrymore manages to put forth a real sense of sweetness and unruliness at the same time.
The core of the movie is Bliss' relationship with her mother (who now works as a postal carrier), and the scenes between Harden and Page are some of the best in the movie. Where some films might underestimate the importance of the mother/daughter relationship and instead focus on more violent girl-on-girl action, Barrymore doesn't abbreviate it at all. She understands this is what the entire movie hinges on and both director and actresses approach these scenes with subtlety.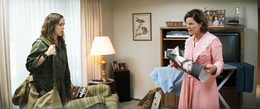 Even the roller derby girls get ample screen time to flesh out their characters. Wiig especially shines as she is revealed to have motherly instincts lurking under her aggressive exterior. Juliette Lewis, who begins the film as one-note bad girl Iron Maven, shows a surprising amount of depth by the end.
For as much convention as "Whip It" adheres to, it also sports a stubbornly independent streak. A break-up between two major characters is handled in uncharacteristic fashion, and even the climax of the movie has some nice left turns on its way to its inevitable conclusion.
The marvel of "Whip It" is that Barrymore's freewheeling spirit is infectious, even when her direction borders on sloppiness and the script skirts with cliché. That is the sign of a natural director.