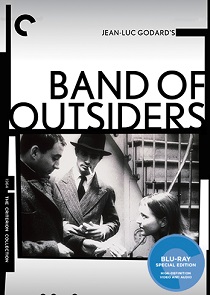 There is an extra feature on the Criterion Blu-ray of Jean-Luc Godard's Band of Outsiders that goes through every single one of the inside jokes, quotations, and pop-culture references that are sprinkled throughout the movie.
What is remarkable is that even though 90 percent of them will be lost on most modern-day viewers, Band of Outsiders (Bande à part) doesn't depend on those nods.
Besides being a stirring portrait of a youth culture in crisis, the film is very charming and accessible — especially for anyone that's experienced teen alienation.
Anna Karina, Sami Frey, Claude Brasseur are Odile, Franz, and  Arthur respectively — three young people who get caught up in a scheme to steal a large sum of cash from a capitalist pig who has it stashed in a suburban house, but that's almost beside the point. What's timeless about this French trio  are their chemistry and combustibility.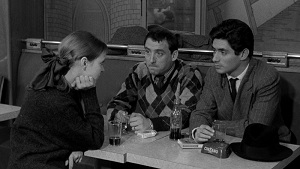 Arthur sets his sights aggressively on Odile the moment he sees her in an English language class. (The movie itself is very loosely based on an American pulp novel called Fool's Gold by Dolores Hitchens.) What follows between he and Franz are the typical movies where both are jockeying for position as they try to impress the naïve Odile, but Arthur is way more confident and self-possessed.
A series of now-famous set pieces occur along the way, such as the one minute of complete silence on the soundtrack that breaks the "reality" of the film, the scene where all three characters try to break the world record for running through the Louvre, and the "Madison dance" scene where all three dance together and apart silently and reveal so much about themselves.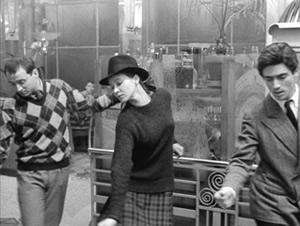 (It's no secret that this scene inspired the John Travolta-Uma Thuman dance in Pulp Fiction, or that Quentin Tarantino's production company is called A Band Apart. Where do you think he got the idea for Uma literally drawing a square onscreen?)
The crime plot, if you can even call it that, looms in the background as Godard meanders toward it. What's more important perhaps is that Arthur and Franz are big fans of American gangster movies and want to be in one for real. A narrator (played by Godard himself) makes absurd comments and seems fed up with the story's mechanics from the very beginning: "A few words chosen at random: Three weeks earlier. A pile of money. An English class. A house by the river. A romantic girl."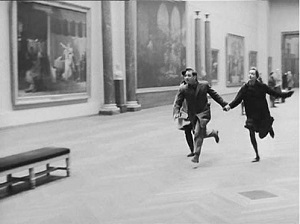 Band of Outsiders is at once a snapshot in time and a timeless piece of cinema. It's full of energy, which may be partially due to the fact that it was shot and assembled so quickly. The extra features do much to place it in its proper perspective with the French New Wave, such as the six minutes of clips from director Andre S. Labarthe's TV documentary La nouvelle vague par elle-meme, the 19-minute 2002 interview with with actress Anna Karina, and the 12-minute video interview with cinematographer Raoul Coutard. Also included is Les fiancés du pont Mac Donald, a 5-minute 1961 short film by Agnès Varda that features Godard and Karina.
The extra features were featured on the 2003 Criterion DVD release, but the digital master for this Blu-ray came from a restoration undertaken by Gaumont in 2010. I'm not an expert on restorations but it looks and sounds terrific — crisp and clean.