Baz Luhrmann is the type of filmmaker who revels in excess. His last picture, the lush and melodramatic "Moulin Rouge!" was a lesson in how to make the old seem new again. He toyed with the formulas of tragic romances, over-the-top musicals, and slapstick comedies, and pillaged the back catalog of rock n' roll's greatest hits, placing them in early turn-of-the-20th Century Paris. The result? A risky, dazzling movie steeped in classic Hollywood mythology.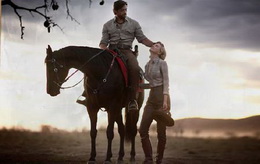 If only he were so daring with the new epic adventure that bears his home country's name. "Australia" has very little of its predecessor's irreverence or nose-thumbing spirit, opting instead for a stubborn adherence to the tenets of the budget-busting Hollywood prestige pictures of the 1950s and 1960s. Don't get me wrong—sweeping countryside shots on the wide-open canvas of Australia are about as beautiful as they come. Why then would Luhrmann support his large-scale cinematic sense with the most silly and derivative of scripts? More importantly—why leave a corny, old-fashioned screenplay corny and old-fashioned? Why was "Australia" virtually un-tweaked by Luhrmann's ever-so-slightly bent vision?
Count me confused.
From the start, it's obvious that something is off with the writer/director's staging. An uptight English woman (Nicole Kidman) is supposed to be met by her husband's reliable cattle rancher (Hugh Jackman) when she gets off the plane in Darwin, Australia. Instead, she ends up embarrassed and offended when her underwear gets thrown about as the rancher (known only as the Drover) uses her luggage to pummel some men in a barfight. The timing is all wrong. The scene is supposed to be charged with raucous spirit, but is thwarted by the incredible obviousness of it all and the fact that the actors telegraph every move before it happens. That moment played out funnier in my head before it had even ended onscreen.
The movie, set during World War II and featuring the oppressive weight of being a "historical epic," eventually finds even more unreliable legs, jutting its awkwardly unfunny tone for a staid and boring one. An ode to Australia, Luhrmann tries to fit in as many issues that define the country's national identity as he can, but each approach is more ponderous than the first.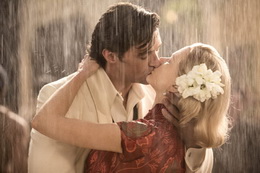 A mixed-race Aboriginal boy called Nullah (Brandon Walters) narrates the film with a cutesy delivery just one baseball cap shy of Short Round, the plucky Asian stereotype of "Indiana Jones and the Temple of Doom." Portraying Australia's forced removal of "the stolen generation" doesn't have to insult the natives as well (see 2002's "Rabbit-Proof Fence"), and it probably isn't what Luhrmann intended. Meanwhile, the mysticism of Nullah's uncle is represented by the old man standing just outside the periphery of the entire plot, staring ahead like the wise creature he is. The problem? He's supposed to be the suspect in a murder.
He obviously didn't do it, because Neil Fletcher did. The usually-reliable David Wenham (Faramir from "the Lord of the Rings" movies) plays the villain as an over-the-top outback version of Snidely Whiplash. He's as desperate and conniving as the evil Duke (Richard Roxburgh) from "Moulin Rouge!," but with no sense of humor or wink of mockery. By the time Wenham's character flowers into the grand baddie of the entire piece, it's really too bad because he's not menacing at all and it's disappointing to know that there is nothing more going on in the script.
An almost-exciting cattle drive and a surprise Japanese bomber attack are high points in a movie that gets so weighed down by its own by its own stuffiness that its lead actors can barely muster enough character to craft a romance. This is the stuff of big theater productions, and Jackman and Kidman never really embody their roles. Instead, they act as if they were projecting to those sitting way up in the balcony. The actors are not helped by dialogue that is so bad that I wonder if it just skipped Luhrmann's mind that he planned on replacing it at one point.
It's hard to say at what point "Australia" completely lost me, but since the movie is two and a half hours of earnest emptiness, let's just say it was a long, cold road to the closing credits.