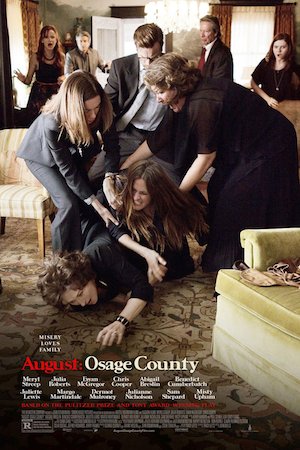 Meryl Streep leads an incredibly talented cast in August: Osage County, a melodrama based on a stage play that suffers under lukewarm direction from TV director/producer John Wells and a script that has bluster to spare, but little character depth.
Streep plays Violet Weston, the matriarch of dysfunctional Oklahoma family that features an alcoholic father played by Sam Shepard, a black sheep daughter that never left, played by Julianne Nicholson, two estranged daughters played by Julia Roberts and Juliet Lewis, and an extended family of character actors that includes Chris Cooper, Margo Martindale and Benedict Cumberbatch.
When the father, Beverly, goes missing, Violet sounds the alarm, asking her daughters and their respective families to come back home to help her look for him. That's about the sum of the plot in the film, which isn't necessarily a bad thing. After all, it's a performance piece with a cast big enough for two movies, but the problem lies in Wells' uneven direction. Some performances are gigantic and scene-devouring, others are understated and delicate. Some scenes attempt intimate sweetness or flights of artistry, others are explosive, plate-smashing nonsense.
August: Osage County is so all over the place, that it becomes difficult to evaluate the performances because they're so incongruent from each other. Streep goes big in this role, and has seen some critical praise for playing against her type. Violet is easily one of her most despicable characters, but Letts' script and Wells' direction fail to give her behavior any depth or motivation. A big character without much characterization, she comes off as cruel for cruelty's sake.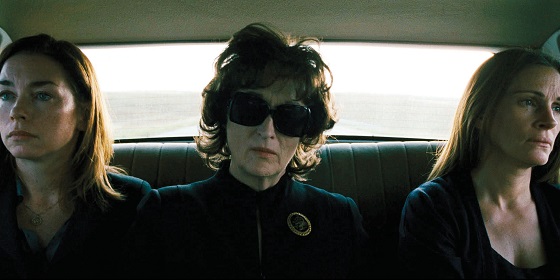 Matching her ferocity is Roberts, who manages to do little to make her character more than an angry, destructive counterweight to Streep. This is especially true during the dinner scene from which the film gets its poster. Every range of acting is on display, as Cooper and Cumberbatch deliver softer, more internal performances, Lewis practices broad comedy and Streep and Roberts chew scenery.
There are big themes here about legacy, heritage and nature vs nurture, but all of those themes are lost in the shuffle. Had Wells embraced the theatrics of the script, it could have became a character study, completely detached from reality, but true to its actors and performances. On the flip side, had the film dropped it's theatricality in favor of more naturalistic deliveries and dialog, it could have been grounded and truly moving.
August: Osage County does neither of these things, and as a result is a weak, and lukewarm affair. There are a few bright moments, but overall it's a missed opportunity.