Save for the thoughtful cinematography from director Joe Wright and cinematographer Seamus McGarvey, "Atonement" verges awfully close to your garden variety British period piece. The film has moments of inspiration, but remains throughout little more than typical – like a well-funded BBC production, the type you might run into on some lazy Sunday while perusing your local PBS for a hint of "Little Women" or a Harlequin romance novel set to pictures and music.
Wright, who directed the highly-acclaimed 2005 update of "Pride and Prejudice," does as much as he can with a paltry and unsatisfying storyline. The overdeveloped imagination of a 13-year old girl named Briony Taliss, one summer's day in 1935, alters the fates of everyone around her. Recalling the cumbersome fascination with the socialite elite of Woody Allen or "The Great Gatsby," the film's first act introduces Briony, her older sister Cecilia, (played by Keira Knightley) and their family's young servant Robbie Turner (portrayed by James McAvoy).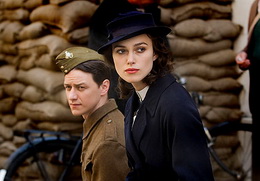 Knightley is beautiful as always, fluttering about with her signature pout and looking amazing smoking an endless stream of cigarettes. McAvoy gives another inspired performance, after having been overlooked by Oscar, in favor of Forrest Whitaker, in last year's "The Last King of Scotland." McAvoy's Turner causes a chain reaction when he sends Briony ahead to a dinner at the family home with the wrong version of a hard-thought apology letter to Cecilia. Her own feelings motivate Briony's damning accusations towards Turner at evening's end, which send him off to prison, away from Cecilia and subsequently to World War II.
The film's prominent score starts out with flare, but quickly becomes a hindrance. Quirky interactions between music and the action on the screen are clever at first, but become a distraction as the sound of a clacking typewriter beats away in time. This device continues throughout the film, as Briony's theme accompanies her from youth to old age. The typewriter's sound is a detail whose significance takes on a deflating and literal meaning in the film's final act, telegraphing too directly the craftsman behind the story being witnessed.
Far and away "Atonement's" strongest aspect, and its saving grace, is the extraordinary cinematography. The film is packed with interesting and creative shots. It is further assisted by a bold color palette and the one successful narrative element– an adept manipulation of time.
One scene shows an airplane, never seen in the air, floating gracefully in sound and reflection, down a stream as Turner trudges as part of a trio of soldiers towards home. In another stunning moment, McAvoy's weakened and gaunt soldier's frame is placed in the foreground as scenes of two lovers from a black and white movie fill up the background behind him.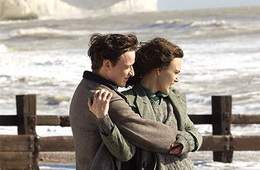 The color choices and art direction provide "Atonement" with riveting visual details, such as the out of place blood-red curtains that shroud the dying soldiers in the otherwise colorless medical ward where nurse Briony attends to rows of graphically wounded soldiers.
"Atonement" effectively plays with time. The rather simple plot gleans a hint of intrigue and all of its suspense from a time-jumping device that follows Briony from age 13 to her days as a war-time nurse and finally to her last days, as she sits for a television interview, and now portrayed by British acting royalty Vanessa Redgrave.
Redgrave gives a gripping direct address monologue which concludes the film. It acts as both the payoff for the story's jumping ahead and back in time, and adds some much needed character and gravitas at the film's end.
There is no question "Atonement" is a cinematically striking film. That fact, combined with capable acting from McAvoy and Redgrave, make it glaringly obvious the film's flaws lie almost entirely with the story, based on the novel by Ian McEwan. This genre has its share of die-hard fans, and "Atonement" should appeal to all the tawdry-romance-fans and British melodrama period-piece enthusiasts who have propped up other works of a similar ilk in awards seasons past. It's unfortunate the story and screenplay are so commonplace, because visually–"Atonement" is anything but.